2011: "Annus horribilis" for African Elephants, says TRAFFIC
Cambridge, UK, 29th December 2011—As the year draws to a close, TRAFFIC warns that 2011 has seen a record number of large ivory seizures globally, reflecting the sharp rise in illegal ivory trade underway since 2007. 
---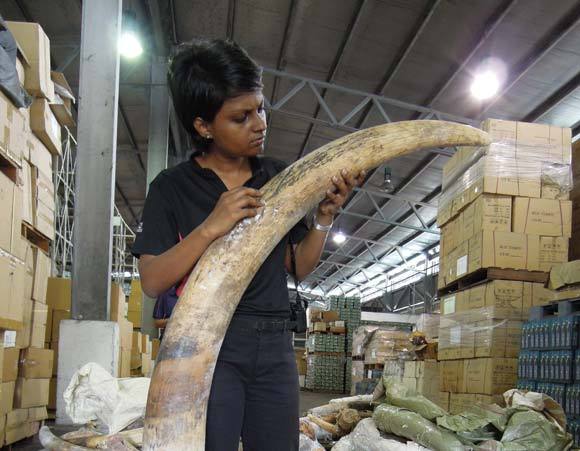 Although official confirmation of the volume of ivory involved in some cases has not yet been registered, what is clear is the dramatic increase in the number of large-scale seizures, over 800 kg in weight, that have taken place in 2011—at least 13 of them. 
This compares to six large seizures in 2010, whose total weight was just under 10 tonnes. A conservative estimate of the weight of ivory seized in the 13 largest seizures in 2011 puts the figure at more than 23 tonnes, a figure that probably represents some 2,500 elephants, possibly more. 
The most recent case to come to light was of 727 ivory pieces discovered on 21st December concealed inside a container at the port of Mombasa, Kenya, and destined for Asia. 
Over the last 12 months, most large seizures of illicit ivory from Africa have originated from either Kenyan or Tanzanian ports. 
"In 23 years of compiling ivory seizure data for ETIS, this is the worst year ever for large ivory seizures—2011 has truly been a horrible year for elephants," said Tom Milliken, TRAFFIC's Elephant expert.
Milliken manages ETIS (the Elephant Trade Information System), the illegal ivory trade monitoring system that TRAFFIC runs on behalf of Parties to CITES (the Convention on International Trade in Endangered Species of Wild Fauna and Flora). ETIS holds the details of over 17,000 reported ivory and other elephant product seizures that have taken place anywhere in the world since 1989. 
Once the records of hundreds of smaller ivory seizures are at hand, 2011 could well prove be the worst year ever for elephants in the database. 
"The escalating large ivory quantities involved in 2011 reflect both a rising demand in Asia and the increasing sophistication of the criminal gangs behind the trafficking. Most illegal shipments of African elephant ivory end up in either China or Thailand." 
The smugglers also appear to have shifted away from using air to sea freight: in early 2011, three of the large scale ivory seizures were at airports, but later in the year most were found in sea freight. 
"The only common denominator in the trafficking is that the ivory departs Africa and arrives in Asia, but the routes are constantly changing, presumably reflecting where the smugglers gamble on being their best chance of eluding detection."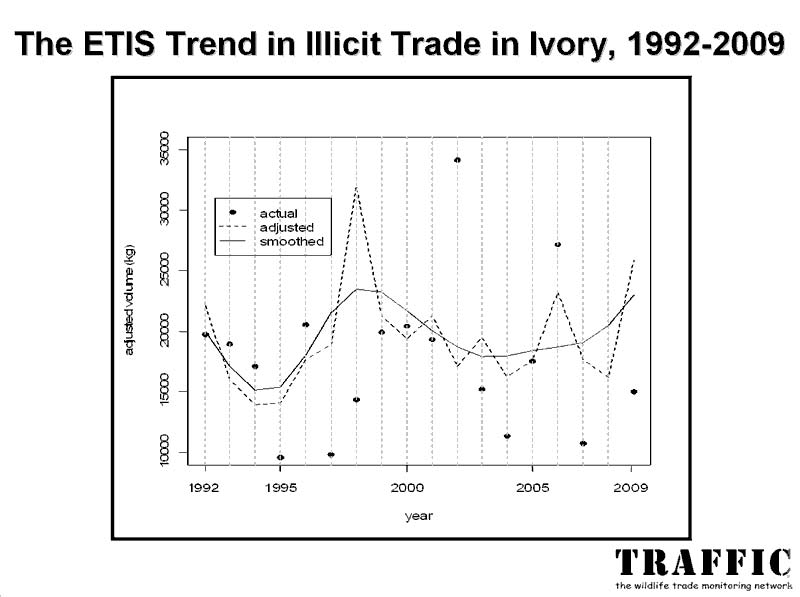 In six of the large seizures in 2011, Malaysia has been a transit country in the supply chain, a role that TRAFFIC first drew attention to in 2009. 
A typical example occurred earlier this month, when Customs in Malaysia seized 1.4 tonnes of ivory (widely misreported as 15 tonnes) concealed inside a shipping container en route from Kenya to Cambodia. 
Once inside Asia, the documentation accompanying an onward shipment is changed to make it appear as a local re-export, helping to conceal its origin from Africa. 
"That's an indication of the level of sophistication enforcement officers are up against in trying to outwit the criminal masterminds behind this insidious trade," said Milliken. 
"As most large-scale ivory seizures fail to result in any arrests, I fear the criminals are winning."
TRAFFIC's work on African Elephants and the ivory trade is funded in part by the US Fish and Wildlife Service (USFWS), the Liz Claiborne Art Ortenberg Foundation and WWF.
Large-scale ivory seizures, 2001-2011
Year

No. of Large-scale Seizures

Wt of Large-scale Ivory 
Seizures (kg)

2001

5

 7,062

2002

6

 19,539

2003

3

 4,421

2004

2

 2,750

2005

2

 4,742

2006

6

 16,442

2007

2

 2,152

2008

0

 -  

2009

8

 19,314

2010

6

 9,798

2011

13

 23,676*

 

 * estimated, provisional figure

 

TOTAL 

 109,898
Large scale ivory seizures in 2011 (some await official confirmation)
| | | | |
| --- | --- | --- | --- |
| Seized | Month in 2011 | Number of ivory pieces | Actual/estimated weight (kg) |
| Kenya | December | 727 | 2575 |
| Kenya | December | 465 | 1647 |
| Malaysia | November | - | 1400 |
| Viet Nam | November | - | 1100 |
| Tanzania | September | 1041 | 1895 |
| Hong Kong | August | 794 | 1898 |
| Malaysia | August | 405 | 2974 |
| Malaysia | August | 664 | 1587 |
| Malaysia | July | 695 | 2000 |
| China | April | 707 | 2234 |
| Thailand | April | 247 | 2033 |
| Kenya | March | 115 | 1304 |
| Thailand | February | 118 | 1026 |
---