Indonesia's little known pitta trade
Petaling Jaya, Malaysia, 17th February 2016—A secretive bird that's a challenge to spot in the wild is a regular sight at some of Indonesia's notorious wild bird markets according to a newly published paper written by researchers from TRAFFIC and Birdtour Asia.
---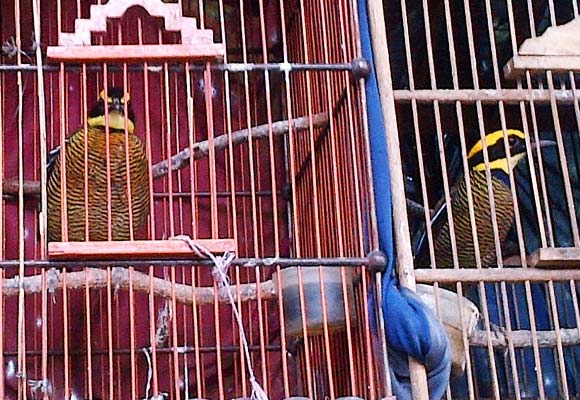 Pittas, often described as jewels of the forest because of their bright and colourful plumage, were encountered in seven of eight bird markets visited between 2014 and 2015 in Java, Indonesia, according to the authors of Pittas for a pittance: observations on the little known illegal trade in Pittidae in west Indonesia (PDF, 300 KB).
The article, published in the latest issue of the Oriental Bird Club's BirdingASIA, documents the discovery of 81 pittas comprising four species in the markets. All pitta species are protected from hunting and trade under Indonesian law. 
"It takes lot of effort and patience to spot a pitta in the wild, but it's not difficult to find them for sale in Indonesia's bird markets. I was flabbergasted," said co-author of the recent study, TRAFFIC's Serene Chng.
The appeal of pittas in trade is their visual beauty rather than their vocal prowess. Traders frequently described them as cantik (pretty) to the researchers and potential buyers.
Asia, and in particular Southeast Asia, is where the majority of the world's pittas are found. Every year hundreds of birdwatchers from across the globe visit Asia's forests hoping to see pittas, whose secretive nature and bright colours makes them highly prized sightings. The associated ecotourism industry provides a source of local income and employment and offers a direct incentive to protect the pittas' rainforest habitats. 
Recognising the role birdwatchers can play, TRAFFIC is engaging with the birdwatching ecotourism industry as part of its work on the songbird trade, co-ordinating with Birdtour Asia, specialists in Asian birding tours, to carry out surveys of bird markets. 
"Through these joint efforts we're trying to illustrate to the industry how illegal trade is impacting some of the species most sought after by birdwatchers around the world. We're connecting with an audience that not only values these birds, but also an industry that makes it economically important to conserve them in the wild," said Dr Chris R. Shepherd, Regional Director of TRAFFIC in Southeast Asia.
Birdtour Asia's co-founder James Eaton, who collaborated on the survey said: "There's a growing number of birdwatchers and photographers that take great pride in seeing pittas, which are often regarded as the most beautiful family of birds in the world. If these birds continue to disappear from Asia's rainforests, so will the ecotourists. Just standing by and watching this happen isn't an option."
---