FairWild market promotion workshop held in Kunming
Kunming, China, January 2019—Last month, TRAFFIC and the China Standard Conformity Assessment Co., Ltd (CSCA) jointly hosted a FairWild market promotion and best practice sharing workshop in Kunming. 
---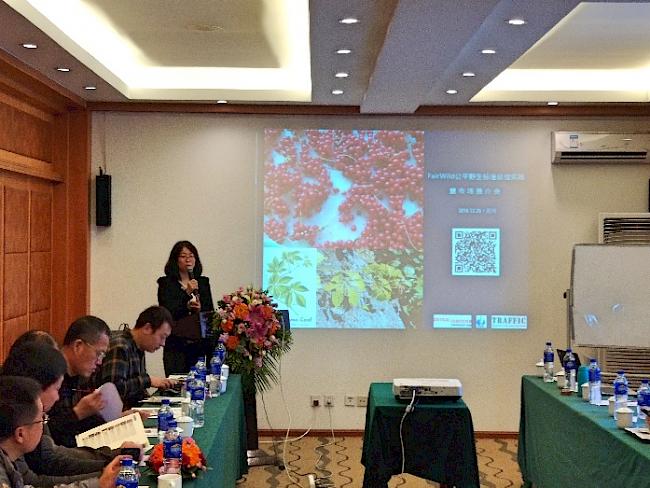 Some 25 participants included senior officials from the Tibet Agriculture and Animal Husbandry Bureau, Heilongjiang Forest Industry Bureau, experts from Rainforest Alliance, Northeast Forestry University, Yunnan Province Certification and Accreditation Association, wild collectors from Guangxi Autonomous Province, and representatives of Nuherb China and other companies with organic certification and following agricultural standards.
China is a leading importer and exporter of wild plant resources, with a long history of wild plant utilisation. However, the increasing volume of trade has led to a significant decline in populations of some wild plants species, and over-exploitation threatens the natural environment. 
Furthermore, the safety and traceability of wild-collected raw materials and the environmental and social issues involved are receiving more and more attention. Establishing international co-operation for sustainable procurement and trade in natural resources is an increasingly urgent issue worldwide.
The workshop aimed at sowing the seeds of sustainable procurement and corporate social responsibility into wild plant utilisation in the Chinese medicine industry. 
TRAFFIC and the FairWild Foundation have promoted FairWild certification in China for several years, with active uptake by a number of institutions and leading companies engaged in the wild plant trade. 
A three-year project to boost use of the FairWild Standard in China was funded by the Critical Ecosystem Partnership Fund (CEPF) and Keidanren Nature Conservation Fund (KNCF), while prior to this some baseline research and pilot projects were undertaken by TRAFFIC through the Engaging China's private sector in sustainable management of medicinal plants project funded by the EU-China Environmental Governance Programme.
In 2016, CSCA and the FairWild Foundation signed a memorandum of understanding (MoU) on the joint development of a plan to introduce the FairWild Standard and certification system into China. 
After the FairWild Standard was successfully registered with the Certification and Accreditation Administration of the People's Republic of China (CNCA), in 2017, the CSCA received exclusive authorisation to conduct FairWild certification audits in China. In October 2018, CSCA conducted a FairWild pre-audit of Schisandra chinensis from an area managed by the Heilongjiang Yingchun Forestry Bureau, and of Gynostemma pentaphyllum and Dendranthema indicum from Fusui County, Guangxi. The CSCA reported that the wild-collection practices for the target species were sufficient to meet the FairWild Standard's requirements. 
During last month's workshop, CSCA spoke about FairWild certification and their upcoming sustainable certification strategy. Heilongjiang Yingchun Forestry Bureau showcased Schisandra collection and how sustainable harvesting related to protection of the Amur Tiger Panthera tigris altaica, while harvesters of Gynostemma pentaphyllum and Dendranthema indicum spoke about sustainable wild collection of these species in areas protected for François's Langur Trachypithecus francoisi in Guangxi.
"Examination of wild plant harvesting reveals just how rich China's wild medicinal plant resources are, and to some extent, how fragile they are," said Prof. Gu Huiyan, a forestry expert from the Northeast Forest University, an expert participant in the project trained in delivering FairWild certification audits.
"Application of the FairWild Standard guarantees that wild-collected plant products in the supply chain meet sustainable development aspirations regarding resource management and production and helps support community development while enhancing product value. In addition, obtaining dual or triple certifications across, for example, FairWild certification, organic certification, and forest certification is becoming an international trend, which can reduce the cost of certification and provide increased competitiveness."
Chen Jing, TRAFFIC's project manager said, "TRAFFIC is committed to improving and transforming industry, community, and consumer awareness concerning legal, and sustainable trade in wildlife and the FairWild Standard is an effective tool to achieve this goal."
"Yunnan Province has rich wild medicinal and aromatic plant resources, which are collected and sold by local communities, but the region's remoteness hinders access to markets," said an industry representative, "This workshop helped illuminate the global markets that exist and how they could be accessed."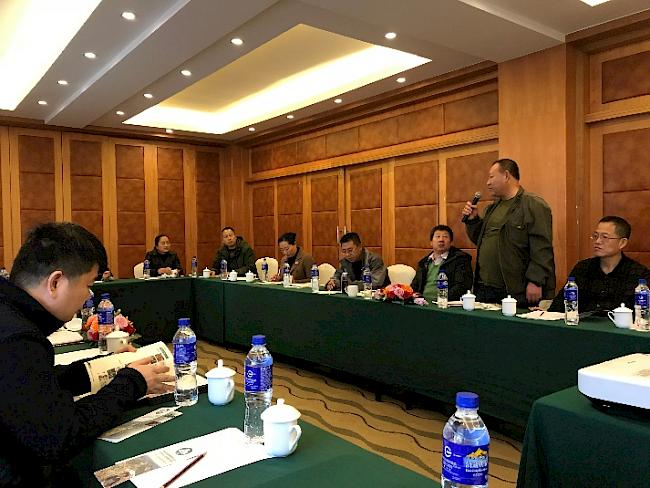 Following the workshop, the companies present voluntarily committed to working towards adherence to the FairWild Standard along their entire medicinal plant supply chains. 
The Chinese partner of Nuherb (one of the biggest traditional medicine companies in the US), said that they hope more companies in China will be able to supply products to meet the FairWild Standard and were willing to help the first Chinese FairWild certified product become a reality. 
There will be opportunities to learn more about FairWild at the upcoming BioFach trade fair in Nuremberg, Germany, between 13–16th February 2019, including events focusing on making the connections between producers and potential buyers. 
---