Experts meet to turn the tide on Asian songbird extinction crisis
Petaling Jaya, Malaysia, 27th March 2019—Against a backdrop of multiple seizures, global experts are set to meet at the end of this week to discuss the illegal and unsustainable trade in Asian songbirds. Bringing together over 50 researchers and conservationists from the region and across the world, who encompass a wide range of expertise, this is the first official meeting of the Asian Songbird Trade Specialist Group (ASTSG) since its inception in 2017 under the auspices of the International Union for Conservation of Nature, Species Survival Commission (IUCN/SSC).
---
Since the alarm was raised at the inaugural Asian Songbird Trade Crisis Summit in 2015, the issue has received growing coverage and traction, with both governments and conservation organisations taking action. The region witnesses a sobering level of bird trade, with TRAFFIC's snap-shot surveys in key bird markets alone recording more that 86,000 birds in Indonesia, Malaysia, Singapore, Thailand, Viet Nam from 2014–2018. 
Meanwhile, Indonesian authorities have confiscated close to 12,000 birds at pinch points between Java and Sumatra, over a 26-day period between November and December 2018.
The scale of bird trapping is enormous and concern about this age-old culture-turned-problem has never been higher than it is today.
This gives us the opportunity to turn the tide—governments and conservation organisations must collectively work to shift the needle from evidence to influence and impact."
Kanitha Krishnasamy Director for TRAFFIC in Southeast Asia.
Hosted by TRAFFIC's longstanding partner, the Wildlife Reserves Singapore, participants will come together at the meeting to share updates, assess progress and importantly, identify critical gaps in effort.
Discussions will be based on the Conservation Strategy for Southeast Asian Songbirds in Trade that was launched in 2017, where five main themes were identified to reduce threats and safeguard Asian songbird populations in the wild: field research; genetic research; trade, legislation and enforcement; community engagement; communication and education. 
Songbird-keeping is firmly entrenched in local culture and tradition in Southeast Asia, but with rising demand and over-zealous collecting, many species are now at the brink of extinction because of capture for the cage bird trade. 
"Bringing together various stakeholders to work on this issue is essential to develop co-ordinated responses and implement effective interventions, and ultimately to prevent species extinctions," said Chris R. Shepherd, the Trade Vice-chair of the ASTSG and Executive Director of Monitor.
To coincide with the meeting, digital and geospatial storytellers Kontinentalist have worked with TRAFFIC and Monitor to craft an online insight into the illegal and unsustainable bird trade in Southeast Asia. Kontinentalist is a data- and map-driven editorial outfit committed to Asian stories.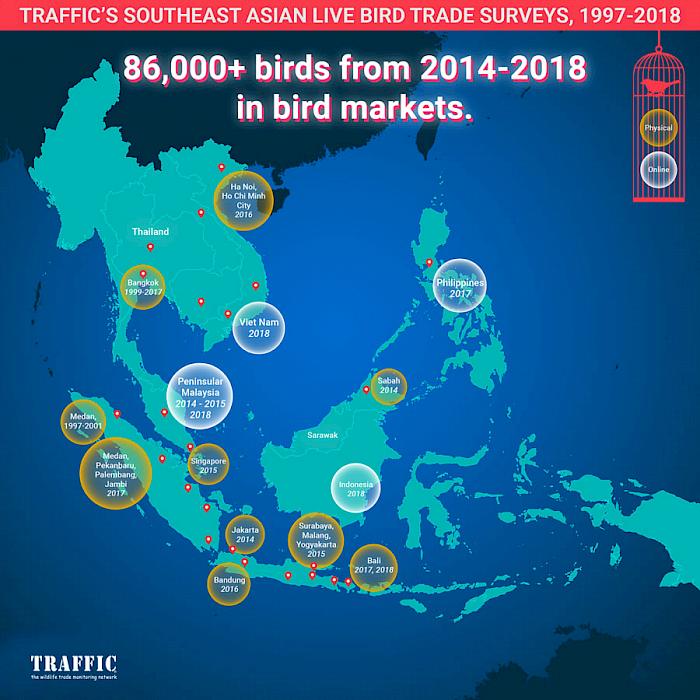 Following the tale of a poached Straw-headed Bulbul to its final destination, the piece uncovers multiple aspects of the songbird trade which impacts hundreds of species in the region. 
"Visualisation of the research done by TRAFFIC and others helps to tell the story, and incorporates nuances that can be lost amidst the statistics," said Serene Chng, TRAFFIC Programme Officer in Southeast Asia. 
The Straw-headed Bulbul, highly sought after for its melodious song is identified as one of the current 28 priority species by the Conservation Strategy for Southeast Asian Songbirds in Trade. The species was first uplisted to Endangered in 2016, following input from the Asian Songbird Trade Crisis Summits and just two years later uplisted again to Critically Endangered based on new information on population declines and local extirpations. 
"We know more now than ever about the magnitude and urgency of the problem. What we need now is firm action and new donors to come forward and support the work we aim to deliver collectively," said David Jeggo, Chair of the ASTSG.
---