Agencies in Borneo forge closer co-operation on wildlife trade issues
Kota Kinabalu, Sabah, Malaysia, 15th December 2010—Enforcement agencies from Brunei Darussalam and the Malaysian states of Sabah and Sarawak in Borneo are gathered this week to train and forge closer co-operation on wildlife trade issues.
---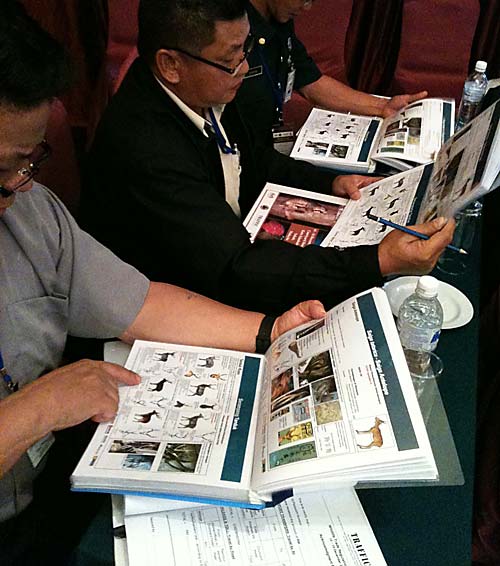 The three-day workshop, funded by Dr Stephan Goetz / Stefan Sanktjohanser of goetzpartners and WWF, has been jointly organized by the Sabah Wildlife Department and TRAFFIC Southeast Asia. The workshop began with a call for greater regional collaboration in conserving the island's biodiversity among the three countries that share the island of Borneo. 
Speaking at the opening ceremony, the Assistant Minister of Culture, Tourism and Environment Datuk Ellron Alfred Angin said: "A course such as this is not only aimed at increasing knowledge and skill of enforcement officers, but also aimed at building effective networks to allow all of you to support each other in your respective workplace and also in this region."
"We also believe that full commitment to our responsibility as custodians of this precious natural treasure is most important to ensure that those who are violating the law shall not escape from punishment."
The three day Wildlife Trade Regulation Course takes place from 14–16th December and involves around 40 participants from a variety of Borneo's enforcement agencies, including the Malaysian Maritime Enforcement Agency, Sabah Wildlife Department, Sabah Forestry, Royal Malaysian Customs, Department of Fisheries and the Brunei Darussalam Departments of Forestry and Agriculture and Agrifood. 
They will receive training from national experts and technical resource staff from TRAFFIC Southeast Asia. 
Ellron also told participants that nature in Borneo was facing a crisis with rainforest disappearing rapidly, with illegal hunting and trade threatening its wildlife.
He cautioned that good legislation alone was not enough to guarantee protection of natural resources. Effective law enforcement was crucial if countries were successfully to combat illegal wildlife trade and conserve Borneo's riches.
The island of Borneo is renowned for its great biodiversity which attracts thousands of tourists each year. That same biodiversity is also becoming increasingly attractive to illegal wildlife traders who take advantage of the long and often remote borders around and within its shores.
In order to combat such transboundary crime, it is vital that enforcement agencies work closely together. This workshop provides a valuable opportunity for agencies from the countries and states that make up the island to meet and learn about regulating and investigating the wildlife trade. This workshop is the fourth to be conducted by TRAFFIC Southeast Asia for Borneo's enforcement agencies within the past 18 months.
---