Malaysia incinerates tonnes of seized Africa-sourced pangolin scales
Petaling Jaya, Malaysia, 6th December 2018–Close to three tonnes of pangolin scales went up in flames today as authorities incinerated several illegal shipments seized in 2017—a record year for pangolin scale seizures in Malaysia.
---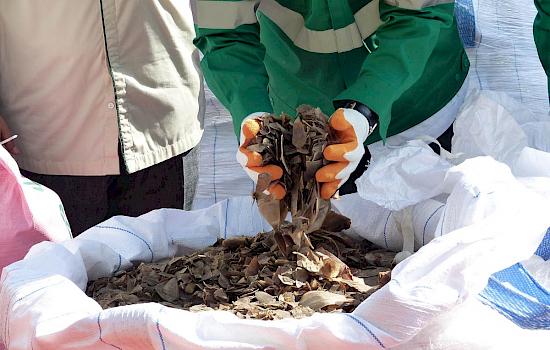 The scales destroyed in today's event, representing 12% of Malaysia's African pangolin scale seizures in 2017, were seized in three separate operations by the Royal Malaysian Customs.
The seizures of 407 kg of scales on 2nd May and 291 kg on 30th July 2017 were made at the Kuala Lumpur International Airport. 
The third—and largest—of the three seizures weighed 2.1 tonnes and took place on 13th September in West Port, Port Kelang and had not previously been reported publicly. 
Malaysia has emerged as a transit hub for the illicit trade of pangolins from Africa to Asia. Over a seven month period between May and November 2017, Malaysia seized a whopping 17,131 kg of pangolin scales in 10 shipments originating from Africa.
The event was overseen by Malaysia's Ministry of Water, Land, and Natural Resources (KATS) and the Department of Wildlife and National Parks Peninsular Malaysia, who received the scales from Customs following clearance from the Malaysian courts.
The 2nd May shipment originated in Ghana and transited through Dubai before being intercepted in Malaysia, while the 30th July shipment came from the Democratic Republic of Congo and transited through Ethiopia; Malaysia was noted as the final destination in both shipments. 
There was scant detail about the provenance of the 2.1 tonne seizure at a press conference held in conjunction with the event today although Ghana and Cameroon were both named as source countries without them being specifically linked to any of the individual cases.
KATS Minister Dr. Xavier Jayakumar told press that this was a high level, multi-million dollar crime, though no arrests were made in connection with the three cases. He added that samples had been taken from all the consignments to identify the species of pangolins involved.
DNA samples from the three seizures have been collected by the National Wildlife Forensics Laboratory (PERHILITAN) and TRACE, the Wildlife Forensics Network, prior to incineration. The sampling will be conducted through a collaborative project with TRAFFIC, funded under a United States Department Bureau of International Narcotics and Law Enforcement Affairs (INL) grant.
TRAFFIC warmly welcomed the move to take samples for forensic testing ahead of the destruction and encourages all authorities making significant wildlife seizures to follow Malaysia's lead and to ensure the findings are shared with enforcement agencies in the countries of origin to help with international enforcement efforts.
Importantly, comprehensive investigations must be pursued to get to the bottom of parties involved in such shipments, particularly when such voluminous amounts of species banned from commercial international trade under the Convention on International Trade in Endangered Species of Wild Fauna and Flora (CITES) are being moved across continents.
This will have important implications for the global effort to stamp out pangolin trafficking, particularly in weeding out Malaysia's role in this complex problem. Information and intelligence sharing between agencies is key to taking down international networks that are decimating pangolin populations
Kanitha Krishnasamy, TRAFFIC Director for Southeast Asia
In September this year, a local businessman was charged in connection with Malaysia's largest ever pangolin scale seizure of 8000 kg, the first person to be prosecuted for such a case. The case is currently ongoing.
Pangolins are one of the most heavily trafficked mammals worldwide, with the African pangolins being targeted heavily since 2000 as Asian species dwindle in the wild from poaching pressure. An analysis of seizures by TRAFFIC and the University of Adelaide found an average of 20 tonnes of pangolins and their parts had been trafficked internationally every year from 2010 to 2015. At least 55 tonnes of scales were trafficked during that period.
---