Leaders in behavioural change explore innovations on how to reduce demand for illegal wildlife products
Bangkok, Thailand, 7th December 2018—deepening insight and supporting impactful practices around influencing wildlife product consumer behaviour were the focus of a three-day event which brought together over 100 participants, representing 60 organisations across 21 countries, from the demand reduction sector.
---
The 2nd International Conference Revisiting Efforts to Reduce Demand for Illegal Wildlife Products: Showcasing Best Practice in Behavioural Change sought to build on the collaborations now occurring across the Community of Practice, and deepend insights into several key areas of behavioural science application within a wildlife conservation context.
A combination of 'deep dive working groups', presentations, "masterclass" sessions, interactive training sessions, and networking opportunities stimulated discussion around opportunities to showcase the best in behavioural science, and strengthen skills and further increase knowledge throughout the conference.
Our ambition was to build on the fantastic atmosphere of collaboration apparent across the Community of Practice, by really deepening insight and practice around a few key areas of behavioural science application
Gayle Burgess, TRAFFIC's Behavioural Change Co-ordinator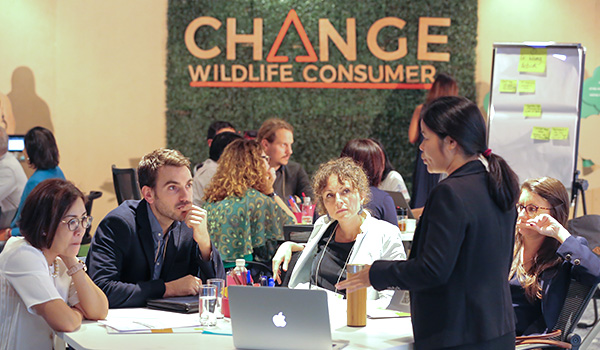 "This event explored themes at the forefront of demand reduction initiative design, such as the role of 'catalyst and gateway' behaviours; how to strengthen impact measurement; and the role of concepts well established in fields such as pro-health and pro-environment behaviours, such as the 'Value-Action' or 'Attitude-Action' gap. Community members can draw from collective experience in order to refine demand reduction and social marketing initiative design, to support our work towards a common goal—in this case, reducing demand for illegal wildlife products."
The conference was structured through three stages to showcase best practices from Social and Behavioural Change Communications (SBCC), and stimulate the exchange of skills, experience, and knowledge from all members of the Community of Practice.
Reflect & Review sessions took stock of existing materials and data, deepening understandings on the opportunities for innovation within behavioural change. "Deep Dive" sessions, allowed participants to discuss key topics in-depth.
Refresh & Reinvigorate sessions showcased relevant innovations from other spheres of behavioural science, and also introduced the re-developed Change Wildlife Consumers toolkit—an online repository of resources, webinars, market data, expert interviews, and educational materials for all those working to reduce the consumption of illegal wildlife products.
The final theme, Refine & Review, encouraged pledges and commitments from participants in how they would apply what had been learnt. Final "Masterclasses" on conducting consumer research, script development for SBCC initiatives, and seeing behavioural change within a wider context.
"Harnessing the power of existing behavioural science expertise is critical to the development of impactful SBCC interventions. It's seldom you see such a rich diversity of people working within behavioural change all in one room—we look forward to seeing this event contribute to the meaningful conservation impact behavioural change initiatives are already bringing about," said Steven Broad, TRAFFIC's Executive Director.
"Behavioural change science holds the potential to be a game changer within wildlife conservation, if applied in a targeted and methodical way," said Monica Zavagli, TRAFFIC's Senior Programme Officer.
 "This conference demonstrated how the behavioural change Community of Practice is more engaged, experienced, and ready to collaborate than ever before. The future of SBCC within a wildlife conservation context is looking brighter than it ever has."
---
Notes:
The Conference has been generously supported by USAID, through the Wildlife Trafficking Response, Assessment and Priority Setting (Wildlife TRAPS) project, with a contribution from the German Partnership project, implemented by GIZ on behalf of the German Federal Ministry for Economic Cooperation and Development (BMZ) and the German Federal Ministry for Environment, Nature Conservation and Nuclear Safety (BMU); and the Asia Wildlife Enforcement and Demand Management project, funded by the European Union.

Materials:
The full set of presentations, interviews, and supplementary materials are available on the events page of the Change Wildlife Consumers toolkit. For any questions, please email Enable JavaScript to view protected content..
---
About Wildlife TRAPS
The USAID-funded Wildlife Trafficking, Response, Assessment and Priority Setting (Wildlife TRAPS) Project is an initiative that is designed to secure a transformation in the level of co-operation between an international community of stakeholders who are impacted by illegal wildlife trade between Africa and Asia. The project is designed to increase understanding of the true character and scale of the response required, to set priorities, identify intervention points, and test non-traditional approaches with project partners.