TRAFFIC highlights opportunities for conservation collaboration with international zoo community
Edinburgh, UK, 30th September 2013—TRAFFIC shared first-hand knowledge on the threats posed by illegal and or unsustainable trade in wild species to more than 750 participants from 57 countries who met last week in Edinburgh at the annual conference of the European Association of Zoos and Aquaria (EAZA) hosted by the Royal Zoological Society of Scotland. 
---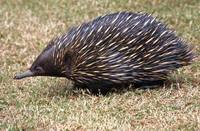 EAZA comprises 345 member institutions in 41 countries. More than 140 million people visit EAZA members each year, a number equivalent to approximately one in five European citizens.  Established in 1992, EAZA's mission is to facilitate co-operation within the European zoo and aquarium community towards the goals of education, research and conservation. 
TRAFFIC spoke about the trade in serows (goat antelopes) across South-East Asia, with a focus on Myanmar, and the need for better enforcement and efforts needed to reduce the demand for these threatened species for wild meat and medicine. Every market surveyed by TRAFFIC in Myanmar in 2006 had serow for sale, with the bulk of the parts observed being horns and heads. Many of these markets are situated on the Myanmar-Thailand border with dealers claiming that buyers came from Thailand, indicating a blatant disregard for both national legislation and CITES (the Convention on International Trade in Endangered Species of Wild Fauna and Flora). 
TRAFFIC also provided its specialist knowledge on the trade in bear bile across East and South-East Asia and the impact it is having on wild bear populations, with participants brought fully up-to-date with the latest developments in Malaysia following the publication of TRAFFIC's investigation into the Asian bear bile trade in 2011. Once again, the need for long-term efforts to reduce demand for bear bile and increase enforcement action were highlighted as well as a call to support an International Union for Conservation of Nature (IUCN) Resolution calling for the closure of all bear farms in South-East Asia. 
A case study on the trade in echidnas (spiny anteaters) was used by TRAFFIC to highlight the issue of wild-caught animals being fraudulently declared as captive-bred to allow their illegal export. TRAFFIC underscored the need for due diligence on the part of zoos in acquiring specimens declared as being captive bred and commended the actions taken by zoo associations in Australia, North America and Europe as well as by World Association of Zoos and Aquariums (WAZA) to address this issue after the echidna trade was first highlighted in the TRAFFIC Bulletin earlier this year. 
The need for long-term strategic market monitoring of the bird trade in Indonesia was also highlighted by TRAFFIC during the meeting. Over-harvesting is pushing several species, including the Black-winged Starling Sturnus melanopterus and Sumatran Laughingthrush Garrulax bicolor towards the brink of extirpation or extinction. Such monitoring would help guide further research and conservation efforts, including longer-term demand-reduction strategies. 
"The combination of large visitor numbers, immense commitment from EAZA institutions to addressing wildlife conservation issues, and TRAFFIC's expertise in understanding international wildlife trade, creates many exciting opportunities for future collaboration between EAZA and TRAFFIC to achieve significant conservation impacts," said Dr Chris R. Shepherd, Regional Director for TRAFFIC in South-East Asia.
---