Climate Summit urged to implement wildlife trade solutions to tackle climate change
Cambridge, 1st November 2021 - As world leaders meet at the 26th UN Climate Change Conference of the Parties (COP26) in Glasgow this week to confront the challenges of global climate change, TRAFFIC urges governments to recognize the crucial contribution that sustainable wildlife trade can play in tackling the climate crisis. 
---
Climate change presents the most existential threat to people and nature today. The increasing frequency of extreme storms, floods, droughts and wildfires are bleak warnings of what we face if the global community does not act now. Climate change also presents a severe threat to livelihoods and economies. It is the most vulnerable communities that are at the greatest risk of losing their lives, homes and livelihoods. 
Promoting wildlife trade that is legal and sustainable, and tackling illegal and unsustainable resource use, can help countries make the shift to resilient, green economies that provide positive economic and environmental returns"
TRAFFIC Executive Director Richard Scobey
"These efforts will also help conserve and restore the forest and ocean ecosystems that are essential carbon sinks for tackling the climate crisis and help provide the benefits people need to adapt to the unprecedented challenge the world now faces." 
Scobey noted that TRAFFIC has over four decades of experience at the nexus of biodiversity conservation and sustainable development - working to ensure that wildlife trade contributes to biodiversity conservation while meeting human needs and supporting local and national economies.  
"Our detailed knowledge of how the global supply chains of natural resources work and the best ways to promote the sustainable use and management of those resources makes us well placed to assist the international community in developing nature-based solutions that harness the power of the natural world to reduce greenhouse gas emissions and also help communities adapt to the impacts of climate change." 
Forests play a vital role in removing carbon from the air. Protecting forests is critical if the international community meets its climate goals as they serve as natural storage for carbon.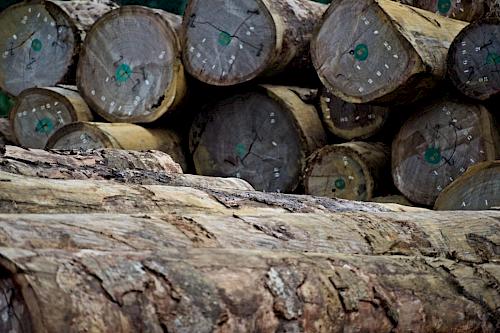 "TRAFFIC has a comprehensive programme that supports efforts to tackle deforestation - the second leading cause of carbon emissions that contribute to climate change. Our work includes efforts to combat illegal logging and over-harvesting of timber for trade as well as achieve sustainable production and supply chains. These efforts make a vital contribution to help countries slow the global deforestation rate." 
Climate change is already having a disastrous impact on the lives and livelihoods of communities that are particularly vulnerable to its effects. Practical solutions need to be developed that can help minimise the ways in which floods, droughts and extreme weather affect the lives and opportunities of these communities and the ecosystems and species upon which they depend.  
"TRAFFIC also plays an important role in helping people adapt to these current changes and strengthening communities' resilience to prepare for the future" Scobey said.  
"For example, we are supporting businesses in responsible wildlife sourcing and trade practices to ensure that harvest of non-timber forest products is not only legal and sustainable but also provides substantial economic benefits to local communities. Knowing how the critical species and ecosystems are likely to be impacted by climate change is essential for developing effective climate change adaptation strategies, National Adaptation Plans and Adaptation Communications for both people and biodiversity." 
A joint IUCN/TRAFFIC study on climate change vulnerability and human use of wildlife in Africa's Albertine Rift highlighted that 33 plant, 25 reptile, 24 mammal, 19 freshwater fish, 17 bird and 14 amphibian species important for use by people are vulnerable to climate change.  
The efforts by just one sector alone cannot effectively address the global threats presented by climate change. Cross-sectoral coordination and global partnerships are essential to drive collective action - across climate science, environmental protection, economic development, nature conservation and wildlife trade and use.  
TRAFFIC stands ready to scale up our work and partnerships to help accelerate governments' implementation of governments implement the ambitious and transformative commitments pledged this week at CoP26."
---