TRAFFIC highlights need for an alliance against environmental crimes at the international anti-corruption conference
Last week, counter-corruption and financial crime experts from TRAFFIC joined the world's largest anti-corruption conference, the International Anti-Corruption Conference (IACC), in Washington DC to highlight how organisations need to work together in proactive multi-sector approaches to tackle corruption and associated financial crimes that propel illegal wildlife trade.    
---
Attended by prominent government figures and NGO experts working against organised corruption and financial crimes, there was widespread recognition of the role corruption plays in environmental crime.   
Corruption is one of the most important facilitators of illegal wildlife trade. It enables the ongoing destruction of our planet, undermining human rights and threatening the global transformation towards environmentally sustainable economies.  
Every stage in the illegal trade chain is affected, from illegal harvesting, through processing and export, to the sale and laundering of illicit proceeds. For example, the Financial Action Task Force (FATF), suggests that forestry crimes, including corporate crimes and illegal logging, could be as much as USD 152 billion per year.*
While the threats are grave and imminent, the seriousness is a motivator for action around corruption-enabled environmental destruction; it was positive to see there is a desire for cooperation across a range of sectors and between countries."
Gabriel Sipos, TRAFFIC's Anti-Corruption Coordinator. 
Illegal wildlife trade often involves sophisticated, well-funded, and organised criminal groups, and catching and prosecuting the lower-level actors (such as poachers or couriers) without targeting higher-level individuals is likely to have minimal impact on disrupting these wider networks. 
Moderated by Gabriel Sipos, TRAFFIC hosted its first panel at the IACC on exploring how to Engage the Finance Industry in the fight against cross-border corruption to tackle money laundering in the illegal wildlife trade with representatives from varying areas of the financial sector; Xolisile Khanyile, Director of the South African Financial Intelligence Centre; Stephen Dennison, Financial Crime Analysis and Compliance Manager from HSBC and Ben Brock TRAFFIC's Wildlife Crime Analyst.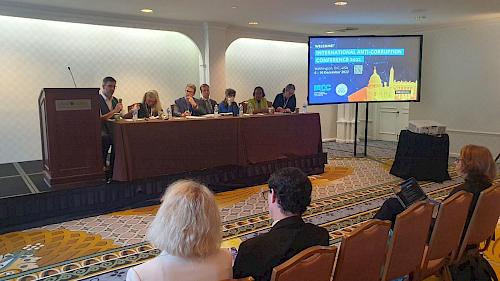 Panel discussions focused on the role of financial institutions by 'Following the money' via existing anti-money laundering initiatives and relevant financial intelligence that could be shared via national Financial Intelligence Centres to uncover and disrupt organised cross-sector multibillion-dollar crimes such as illegal fishing and illegal timber trade that are often laundered via legitimate banks.  
Being able to identify and track those who benefit from criminal activity is essential mitigation, but we also need to co-operate with partners from across the financial sector. A broader, proactive response to illicit financial flows will reduce the money laundering risk to institutions while also interrupting the financial flows that motivate and facilitate environmental crime."
Ben Brock, a Wildlife Crime Analyst for TRAFFIC
With partners under the USAID-funded Targeting Natural Resource Corruption project, TRAFFIC has developed online courses on engaging the financial sector on anti-corruption issues related to wildlife crime and an Introduction to Corruption, Anti-Corruption, and Natural Resource Management. 
At the conference, under TNRC and in close collaboration with world-leading conservation and anti-corruption organisations, Transparency International, World Wildlife Fund (WWF),  and the Basel Institute on Governance, TRAFFIC jointly launched a new practitioners forum.  
The forum is designed to encourage and connect conservationists with anti-corruption actors to work across disciplines to address corruption as a critical driver of environmental degradation, biodiversity loss, and climate change.  
---
Notes:
A personal account of the conference from Wildlife Crime Analyst for TRAFFIC, Ben Brock, will be released in the new year.  
*FATF REPORT Money Laundering from Environmental Crime
Want to read more on TRAFFIC's work on the impacts of financial crime and corruption, take a look:  
---