TRAFFIC and Royal Malaysian Police come together to fight wildlife crime in Belum-Temengor Forest Complex
Kuala Lumpur, 5th November 2012—Police officers stationed near a biodiversity hotspot under pressure from poaching and illegal trade in northern Peninsular Malaysia are stepping up to help in the fight against wildlife crime.
---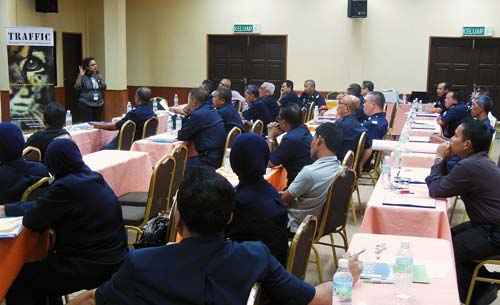 The effort began with some 35 police officers from the district of Gerik in Perak State attending a training session, where they were equipped with knowledge and presented with challenges faced. 
The aim is to enable police to support wildlife authorities tackle wildlife crime in the Belum-Temengor Forest Complex (BTFC); a global priority tiger landscape.
The day-long programme organized by TRAFFIC and Royal Malaysia Police of Gerik District included sessions on a broad spectrum of wildlife crime, such as smuggling techniques, illegal hunting and trade of wildlife in the BTFC, national and international laws that protect wildlife and the role of police in combating wildlife-related crime. 
A practical session discussing real case studies involving the hunting of totally protected wildlife, firearms possession and enforcement was conducted with the intention of finding solutions for improved case-handling and investigations.
The 300,000 hectare BTFC is a critical habitat for threatened wildlife including the Malayan Tiger, Gaur, Asiatic Elephant, Serow and countless endemic plants. Due to its rich biodiversity and easy accessibility, the rate of poaching, illegal trade and encroachments into the area is high; putting countless rare and endangered wildlife at high risk.
In May 2012, TRAFFIC lodged a police report against a perpetrator posting about his illegal hunting activities on an online forum in various locations including Gerik and Temengor. This perpetrator repeatedly mentions not just frequent hunts of Serow, Sambar Deer, Barking Deer, but also explains in detail how to track and hunt wildlife including weapons used. 
Recognizing that burden of combating such an extensive threat could not fall on the shoulders of a single agency, the Gerik Land and District Office together with WWF-Malaysia and TRAFFIC pushed for the establishment of a multi-agency taskforce to boost monitoring and enforcement in the landscape. The Belum-Temengor Joint Enforcement Taskforce was set up in August 2010 and comprised 10 local enforcement agencies, including the police.  
Since then TRAFFIC Southeast Asia has conducted several training sessions for agencies in the Taskforce that don't ordinarily deal with wildlife crimes. Traditionally, wildlife crime falls within the purview of the Department of Wildlife and National Parks. This workshop was designed to provide police officers—who usually deal with drug and human trafficking, firearms and other crimes—the information they need to confidently tackle crimes related to poaching and illegal wildlife trade.
"Since 2009, we have lost over 400 wild animals from this forest complex due to illegal hunting and trade. Many of the cases involve the use of illegal firearms and snares by poachers and a vast network of collectors, middlemen and traders, who move poached wildlife throughout the country and across international borders. Police support is critical in taking down wildlife crime syndicates operating in the area," said TRAFFIC's Senior Programme Officer Kanitha Krishnasamy.
This workshop also saw the involvement of the Perak State Public Prosecutors Office, as a means of developing a more cohesive and effective approach to criminal investigations and subsequent prosecutions.
"This is a positive step forward. Who better to go up against criminals than the police themselves; the very authority equipped to combat crime.  TRAFFIC hopes to see improved engagement that will ultimately strengthen enforcement against wildlife crime and those who wantonly flout the law will be brought to book," said Krishnasamy.
---