Sweet dreams: Traditional and wild scented pillow makes its debut
Slovenia,  5th December 2013—The first wild-plant products from a European Union-funded Traditional and wild project supporting pilot initiatives to promote sustainable management of wild-collected plants and associated capacity-building for local wild plant collectors in Central Europe have been unveiled.
---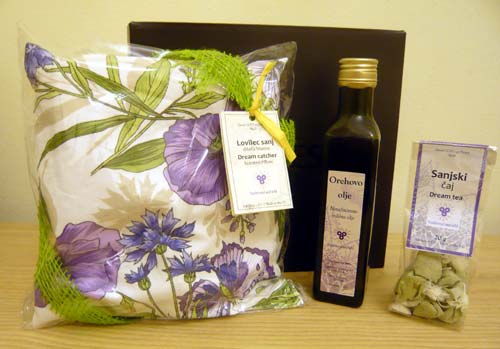 They include a "dream catcher" scented pillow containing a mixture of fragrant herbs growing in the surroundings of Trnovo Plateau in the Lokve region of Slovenia. The herbs include Lavender Lavandula angustifolia, Common Thyme Thymus vulgaris, Balm Mint Melissa officinalis, Peppermint Mentha x piperita and Chamomile Matricaria chamomilla. 
The pillow was launched by Traditional and wild project partner Foundation BiT Planota in Slovenia and is aimed at helping users to get a good night's sleep through easing sleep disorders. 
A herbal tea was also presented at the launch, which similarly aims to promote relaxation. The tea contains extracts from wild plants including Common Nettle Urtica dioica, Black Elder Sambucus nigra, Large-leaved Linden Tilia platyphyllos, Caraway Carum carvi and Spruce Picea abies. 
The Traditional and wild project in Hungary, the Czech Republic, Slovenia and Poland began in 2011. TRAFFIC and WWF Hungary have been involved from the outset, helping to identify suitable species for sample product development where FairWild sustainable wild harvesting practices could be applied and traditional knowledge of local harvesters preserved. 
The first of these sample products, oil extracted from the Common Walnut Juglans regia, was introduced by the Slovenian Development Agency Kozjansko. The vitamin- and mineral-rich oil is used locally to lower blood pressure and cholesterol, as well as helping to improve physical performance. Walnut oil also finds wider applications in cosmetic and culinary use.
TRAFFIC aims to exhibit samples of the oil, the pillow and other products at a number of international events, including the 2014 Biofach trade fair in Germany next February.

This project is implemented through the CENTRAL EUROPE Programme co-financed by the ERDF
---