Soldiers suspended over hornbill killing
Incident highlights issue of army involvement in illegal hunting
Kuala Lumpur, Malaysia, 5th April 2011—Five soldiers who killed a Great Hornbill—an internationally protected species—and posted a photo of themselves with the dead bird on Facebook, have been suspended from duties pending trial under the country's wildlife laws.
---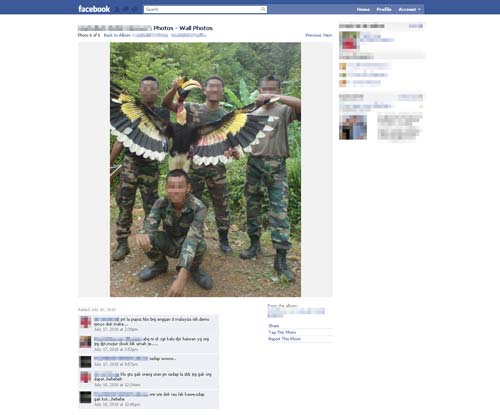 The news has raised a storm of national and international protest. 
In a recent statement to the press, Malaysia's Defence Minister Datuk Seri Dr Ahmad Zaid Hamidi said his Ministry's investigations showed that the bird had been shot by other hunters. 
"The bird fell to the ground and upon seeing the dying bird, they slaughtered it," he was quoted as saying by the National Press Agency, Bernama.
Ahmad Zahid told press that although the army personnel were not the ones who shot the hornbill, they should have tried to save it. 
The case came to public attention after local media featured stories about the Facebook photo in which four soldiers were seen smiling and holding up the dead hornbill. 
Investigations into the case were launched after TRAFFIC Southeast Asia and WWF-Malaysia lodged police reports. The issue was also raised in Parliamentary debates in Malaysia.
The case is under now under investigation by the Department of Wildlife and National Parks.
TRAFFIC Southeast Asia and WWF-Malaysia commended the Defence Ministry for bringing the soldiers to justice they also urged them to recognize the incident as a symptom of a larger problem.
"This case is just one example of army involvement in illegal hunting," said Dr William Schaedla, Regional Director of TRAFFIC Southeast Asia.
TRAFFIC raised the same issue last July when an army corporal was accidently shot by his colleague while the duo were out hunting deer in the Temengor Forest Reserve—a protected area in the northern state of Perak.
"We look to the Army to ensure security, so it is profoundly disappointing to see this trust abused over and over again," Schaedla said.
WWF-Malaysia also said it had received many unofficial reports of soldiers hunting in the Royal Belum State Park throughout the course of its work in the Belum-Temengor forest complex where it has had projects since 2007.
Its Executive Director/CEO Datuk Dr Dionysius Sharma said locals had relayed reports to WWF-Malaysia claiming that soldiers based in the area would hunt totally protected animals such as Malayan gaur and pangolin, Sambar deer and Barking deer.
WWF-Malaysia urged the Defence Ministry to thoroughly investigate these claims and take action to reduce illegal hunting of already threatened wildlife.
Both groups called for the armed forces to raise awareness of conservation issues among their personnel by including it as a subject in training modules and offered assistance in designing course content and carrying out training.
---