Reptiles repatriated to Philippines
Kuala Lumpur, Malaysia, 1st August 2012 - Over a hundred endangered reptiles confiscated in Hong Kong were flown home to the Philippines today, while the second-time offender who smuggled them, has been slapped with a six-week jail sentence.
---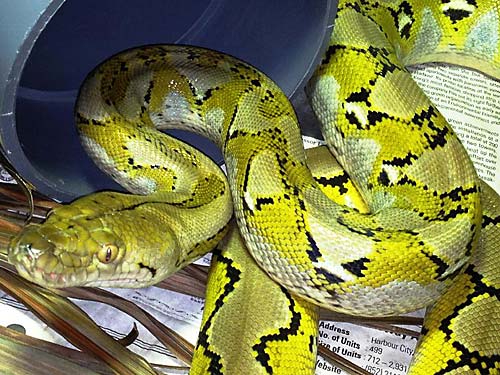 The reptiles were discovered in June, in the luggage of a 22-year-old man, and included 43 Philippine Forest Turtles, 46 Southeast Asian Box Turtles, 19 Mindanao Water Monitor Lizards and one Reticulated Python.
The Philippine Forest Turtle Siebenrockiella leytensis is considered a Critically Endangered species on the IUCN Red List.
He was intercepted at the arrival hall of the Hong Kong international airport on June 14 and was prosecuted by the Agriculture, Fisheries and Conservation Department (AFCD) under the Protection of Endangered Species of Animals and Plants Ordinance. 
Under the law, he could have been sentenced to a maximum penalty of HKD 5 million and two years imprisonment.
Alfred Wong, Endangered Species Protection Officer of the AFCD told TRAFFIC that the same man was intercepted for a similar offence in February this year.
In the earlier case, he was caught with 60 reptiles from the Philippines including 20 Philippine Forest Turtles, and was fined HK$8,000 (USD1,030).
"While the authorities are to be congratulated for nabbing this smuggler, it is unfortunate that the penalties given were not higher, much higher, so as to be a more significant deterrent," said Chris R. Shepherd, Deputy Director of TRAFFIC Southeast Asia.  
"Criminals such as these are committing crimes that in many cases cannot be undone.  Species such as the Philippine Forest Turtle are nearing extinction in the wild, and therefore every effort needs to be made to ensure the poaching, smuggling and illegal buying comes to an end."
Kadoorie Farm and Botanic Garden (KFBG) assisted the AFCD with the temporary holding, and care of the reptiles on both occasions. 
All the animals are listed in Appendix II of the Convention on International Trade in Endangered Species of Wild Fauna and Flora (CITES).  The Philippine Forest Turtles and the Mindanao Water Monitor Lizards are endemic species, found only in the Philippines.
After leaving Hong Kong, most of the reptiles will be held at the rescue centre of the Protected Areas and Wildlife Bureau of the Department of the Environment and Natural Resources of the Philippines before being released back into the wild. The 39 surviving Philippine Forest Turtles, endemic to the Province of Palawan, will be turned over to the Palawan Council for Sustainable Development Staff (PCSDS) in Puerto Princesa City, Palawan who will subsequently turnover to the Katala Foundation Incorporated for quarantine. The cost of repatriation is being borne by the Philippine Government.
---