Indonesia's first court case involving CITES Appendix I listed Radiated Tortoise
Petaling Jaya, Malaysia, 1st August 2018 – A man caught in possession of two Critically Endangered and CITES Appendix I Radiated Tortoises Astrochelys radiata has been charged in a court in Indonesia – the first case of its kind involving tortoises from Madagascar that are a favoured target of the global illegal wildlife trade. 
---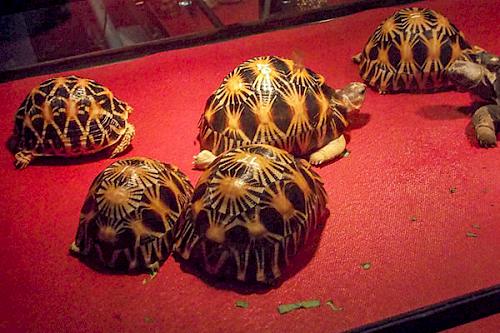 The man was charged in an East Jakarta court under Article 5 of the Law of Republic of Indonesia No. 16/1992 on Animal, Fish and Plant Quarantine. The law requires owners of any animals imported into the country to adhere to quarantine requirements including having a health certificate from the country of origin of the animal, bringing them into Indonesia through a designated place of entry, as well as notifying and presenting the animal at the place of entry for the necessary quarantine actions.
The accused was arrested after authorities inspected his premises and found the tortoises in August last year. Court documents on the case available online through the East Jakarta Court Information System stated the man did not possess the required documents and health certificate for the tortoises. He was subsequently charged in May 2018.
Any person who willfully violates Article 5 of the Law is punishable by a maximum imprisonment of three years in addition to a maximum fine of IDR150,000,000 (USD10,400). Any person, who due to negligence, violates the provisions of Article 5 is punishable by both maximum imprisonment of one year in addition to a maximum fine of IDR50,000,000 (USD3,500).
Radiated Tortoises, which occur only in Madagascar, are listed on Appendix I on the Convention on International Trade in Endangered Species of Wild Fauna and Flora. The species cannot be traded internationally for commercial purposes but is heavily trafficked to meet a demand for exotic pets around the world, but increasingly in Southeast Asia.
In 2015, maximum prices being offered for Critically Endangered Malagasy tortoises were almost 80 times more than prices offered in 2004. 
In April this year, Malagasy authorities uncovered 9,888 live Radiated Tortoises and at least 180 dead ones when they raided a house in Toliara. Three suspects—two men and a woman, the owner of the house—were arrested.
A TRAFFIC study released just the month before reported the discovery of 4,985 individuals of 65 different species of tortoise and freshwater turtles in just seven locations in Jakarta over a four-month period. This survey in 2015, found 486 Radiated Tortoises for sale in shops in Indonesia's capital city.
The Radiated Tortoise, along with many other non-native species, are not protected under Indonesia's wildlife laws.
---