Preserving the Future – digital campaign illuminates illegal trade in non-charismatic species
New Delhi, India, 6th May 2015—A digital media campaign on illegal trade in lesser-known non-charismatic wildlife species—including pangolins, owls and mongooses—that ended last month reached out to nearly 1.4 million individuals on Facebook, Twitter and Google.
---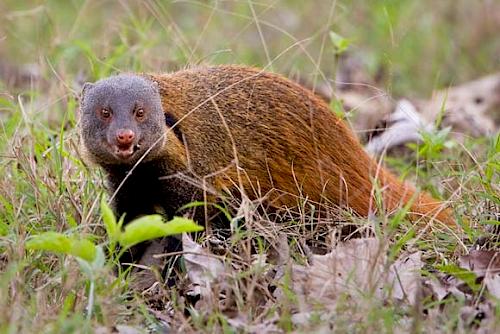 The campaign Preserving the Future: Stop Illegal Wildlife Trade was jointly run by TRAFFIC, WWF-India and the Wildlife Crime Control Bureau (WCCB). 
The growing demand for wildlife from India that threatens the existence of the Tiger, Elephant, Rhino and various other flagship species has been well publicized. However, the illegal trade in non-charismatic species such as pangolins, monitor lizards, Tokay Gecko, turtles and tortoises, lorises, birds, corals, sea cucumbers and others has remained largely unreported. 
TRAFFIC, WWF-India and WCCB launched the latest campaign to highlight the plight of these species and support action for their conservation. 
With little knowledge and understanding about the population status, numbers poached, illegal wildlife trade hubs and dynamics of these non-charismatic species, it is difficult to ascertain the impacts of illegal trade on their population status. 
The campaign Preserving the Future: Stop Illegal Wildlife Trade was launched in New Delhi on the social media platforms of TRAFFIC's India Office and WWF-India and as Google Adverts in February 2015. 
The campaign was designed using a combination of stunning images, infographics, facts and figures regarding poaching and illegal trade, the impact of trade on species conservation, and finally recommendations on how people can help. Also included was a quiz encouraging the audience to respond and win attractive prizes. 
On World Pangolin Day, 21st February, the Indonesian National Police, WCS (Wildlife Conservation Society), and TRAFFIC shared a video of one of the largest pangolin seizures ever in Indonesia that took place in 2008 when the Indonesian National Police Criminal Investigation Bureau Police raided the warehouse of a suspected illegal wildlife trader in the city of Palembang in South Sumatra and recovered more than 14 tonnes of Malayan Pangolins. 
Dr Shekhar Kumar Niraj, Head of TRAFFIC in India said, "Every year in India, hundreds of pangolins, lizards and tortoises are poached, an estimated 700,000 birds are illegally trapped, and several tonnes of sea cucumbers are caught, yet the levels of exploitation of these species are rarely reported. This large-scale exploitation along with minimal information about their population status and poaching and smuggling trends places the future of these lesser known species in serious jeopardy."
Mr Ravi Singh, Secretary General and CEO of WWF-India commented: "The campaign is an endeavour to fight wildlife crime against non-charismatic and lesser known species. In India, we are initiating actions to bring together various stakeholders including enforcement agencies and organisations to address this issue. The burgeoning illegal trade in wildlife species has the potential to seriously impact the health and balance of our eco-systems and it is important that this trade is curbed". 
Pangolins are highly threatened by illegal international trade, yet their plight is little publicized in conservation or media circles. Others species, like the monitor lizard, mongoose, Star Tortoises, Spiny-tailed Lizards, freshwater and marine turtles also need immediate attention. Monitor lizards, especially the Bengal Monitor, were once commonly seen across the country but appear to have declined markedly, apparently after becoming a target of unabated poaching and illegal trade. 
Mr SB Negi, Additional Director and the Chief of the WCCB of India, a nodal agency for curbing wildlife crime in India, said "We are excited to have partnered with TRAFFIC and WWF-India for this campaign. While it is significant to undertake enforcement actions for nipping this problem in the bud, it is equally important to garner the support of the general public. Such awareness initiatives help in reaching out to a large number of audiences who can be potential buyers for wildlife products. We are confident that as demand for illegal wildlife products decreases with the help of such campaigns, smuggling and illegal trade can be contained."
TRAFFIC and WWF-India have flagged their concern about these lesser known non-charismatic species for some time, highlighting them periodically in their respective publications, TRAFFIC Post and PANDA magazine and elsewhere. 
TRAFFIC is a wildlife trade monitoring network and a strategic alliance of WWF and IUCN. In India, it operates as a programme division of WWF-India. WWF-India is one of India's leading conservation organizations with programmes and projects spread across the country. The organization works towards the conservation of biodiversity, natural habitats and the reduction of humanity's ecological footprint. The Wildlife Crime Control Bureau (WCCB) is a statutory multi-disciplinary body established by the Government of India under the Ministry of Environment and Forests, to combat organized wildlife crime in the country.
---