National TWIX workshop for Kenya's law enforcement officials
Amboseli, Kenya, 17th June 2021 - TRAFFIC convened a one-day workshop on Eastern Africa Trade in Wildlife Information eXchange (Eastern Africa-TWIX), an online tool developed to facilitate the exchange of information and cooperation between enforcement officers in East African countries.  
---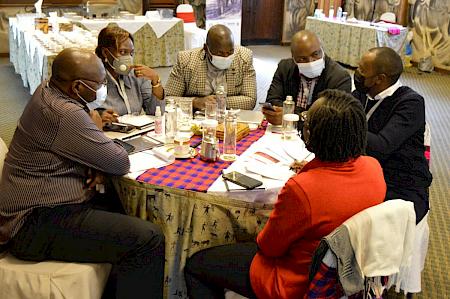 Twenty government officials from Kenya's wildlife law enforcement agencies participated in the event. The officials represented government agencies covering wildlife, forestry, customs, public prosecutions, judiciary, and INTERPOL.
During the official opening of the meeting, Mr Wilson Leboo, Deputy Commandant for Kenya Forest Service, noted that the Eastern Africa-TWIX platform will stimulate inter-agency and international collaboration to disrupt transnational smuggling networks in the region and Kenya in particular.
It is our role as TWIX users to ensure that the Eastern Africa-TWIX mailing list is vibrant. We encourage our colleagues to join the Eastern Africa-TWIX platform."
Eastern Africa-TWIX user from Kenya Wildlife Service
"Workshops such as this aim to increase the number of users who can interact and post information related to illegal wildlife trade on the Eastern Africa-TWIX mailing list and benefit from the website," said Allan Mashalla, TRAFFIC's East Africa Regional TWIX Coordinator.
---
Notes:
The event was generously supported by funds from the USAID-funded Conserving Natural Capital and Enhancing Collaborative Management of Transboundary Resources in East Africa (CONNECT).
---
About USAID

The United States Agency for International Development (USAID) is responsible for the majority of overseas development assistance from the United States Government and works to end extreme poverty and promote resilient, democratic societies while advancing security and prosperity for America and the world. www.usaid.gov/