Multiagency approach to tackling wildlife crime in Arunachal Pradesh
Itanagar, India, May 2012—TRAFFIC India, in collaboration with the Forest Department of Arunachal Pradesh and with support from WWF-India organized a meeting on wildlife law enforcement and conservation in Itanagar earlier this month.
---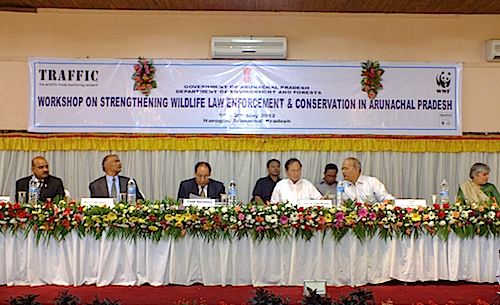 Itanagar is the capital of the north-eastern Indian State of Arunachal Pradesh (AP), and lies on an important illegal wildlife trade route. 
The meeting brought together a number of agencies whose co-operation is necessary for curbing wildlife crime and illegal wildlife trade, which poses a threat to AP's rich biodiversity. Over 70 officials from the forest department, police, civil administration and ITBP (Indo-Tibetan Border Police Force) participated in the two day meeting. 
The meeting was inaugurated by Shri Nabam Tuki, Hon. Chief Minister of Arunachal Pradesh; Shri Yeshi Tsering, Chief Secretary, Government of Arunachal Pradesh; Shri B S Sajwan, Principal Chief Conservator of Forests and Principal Secretary Environment and Forests (PCCF), Arunachal Pradesh and Shri J L Singh, Principal Chief Conservator of Forests (Wildlife & Biodiversity).
Shri Nabam Tuki said that the meeting was a step forward for securing the future of wildlife in the region. Shri J L Singh noted the need to protect Namdhapa National Park given the pressure on the forests and wildlife from poaching and illegal trade activities. He also said that it is imperative to sensitize and gain the support of local communities for conservation and protection measures. Shri Singh also spoke of the success of TRAFFIC India's sniffer dog training programme and noted Arunachal Pradesh would also benefit from the use of sniffer dogs. 
Shri M K S Pasha, Interim Head of TRAFFIC India commented on the high level of bushmeat consumption by local communities in Arunachal Pradesh compared to most other States, and went on to introduce the new tools and techniques that are available for fighting wildlife crime in India. 
Resource material distributed at the meeting including a printed compendium, and CDs, books, posters etc. pertaining to wildlife law and enforcement issues, including copies of the Wildlife (Protection) Act, 1972, Criminal Procedure Code manual and a CD containing parliamentary questions 2004-2010 relating to wildlife issues.
---