Celebrating the contribution of SUPER SNIFFERS on GLOBAL TIGER DAY: #CaninesforFelines
New Delhi, India, 26th July 2019: In the lead up to Global Tiger Day on 29th July 2019, TRAFFIC has announced the winners of Canines for Felines, a special contest for wildlife sniffer dogs (popularly called Super Sniffers) trained under a TRAFFIC and WWF-India programme in India, working to curb poaching and illegal trade of tigers.
---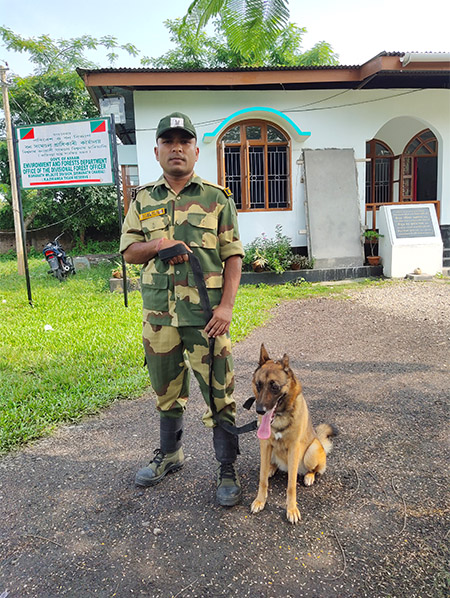 Nirman, a wildlife sniffer dog from the Tiger Strike Force in Satna was the overall winner of Canines for Felines while Myna, a wildlife sniffer dog from Tiger Strike Force in Indore was runner up. Both the dog squads belong to the Madhya Pradesh Forest Department.
Since his deployment, Nirman and his handlers Mr Raj Kishore Prajapati and Mr Ashok Kumar Gupta, have helped in solving 35 wildlife cases, including six tiger-related cases leading to the arrest of several wildlife criminals along with recovery of poached tiger carcasses and seizure of tiger body parts. To become such an ace sniffer and tracker dog, Nirman along with his handlers underwent a rigorous nine-month training programme in 2016 at the National Training Centre for Dogs (NTCD), BSF Academy, Gwalior. 
The runner up sniffer dog Myna and handlers Mr Dinesh Aneja and Mr Ter Singh were trained in 2015 at the 23rd Battalion of Special Armed Forces in Bhopal. They have so far assisted in 18 wildlife cases including three tiger cases involving the arrest of several wildlife criminals and seizures of tiger claws, teeth and other body parts.
Along with these two, wildlife sniffer dog Quarmy from the Biswanath Wildlife Division in Assam won a special prize for combatting wildlife crime. He and his handlers Mr Lakhmi Nandan Baruah and Mr Johnson Teron were trained at the NTCD, BSF Academy, Gwalior in 2017.  Over a period of just two years of deployment, Quarmy has helped in solving several wildlife crime cases and provided crucial leads to enforcement agencies.
The inaugural Canines for Felines competition received 12 entries from across India. Between them, the 12 Super Sniffer contestants have helped enforcement agencies in solving 131 wildlife cases. The winners were chosen based on their impact on tiger-related cases while the Special Prize was awarded based on the wildlife sniffer dog's overall contribution towards curbing wildlife crime. The certificates for the winners and their prizes will be sent to the respective forest departments.
Global Tiger Day gives us an opportunity to celebrate contribution of wildlife sniffer dogs towards tiger and wildlife conservation. Deployed in 19 states so far, these super sniffers have added a new dimension to wildlife crime investigation."
Dr Saket Badola, Head of TRAFFIC's India office
Mr Ravi Singh, SG & CEO, WWF-India added, "WWF-India congratulates the winners of the contest and hopes that they will set a leading example for others to help in curbing wildlife crime within the country and trafficking across the borders."
Bengal Tigers Panthera tigris tigris are listed under Schedule I of India's Wildlife (Protection) Act according them the highest protection status. International trade of tiger parts is prohibited under CITES, where they are listed under Appendix I. Despite this, tigers are poached for their skin—used to make clothing, rugs and wall hangings; and their bones, claws, teeth, etc., used as ingredients in Asian medicines. Live tiger cubs are also smuggled for the illegal pet trade.
To help curb poaching and illegal wildlife trade, TRAFFIC with support from WWF-India launched the wildlife sniffer dog training programme in 2008 in India. Since then it has trained 66 wildlife sniffer dog squads deployed in 19 states across India. These dogs have helped in solving over 350 wildlife crime cases involving the seizure of wildlife products and derivatives, thus acting as strong deterrents for wildlife crime in India.
Global Tiger Day, also called International Tiger Day is celebrated every year on 29th July globally to raise awareness about tiger conservation. It was started in 2010 at the St. Petersburg Tiger Summit.
---