Man charged for illegal possession of Tiger and four leopards
Kuala Lumpur, Malaysia, 12th September 2013—A Malaysian man caught with a Tiger and four leopards in his car has been charged with five counts under the Wildlife Conservation Act 2010 for illegal possession of the dead animals.
---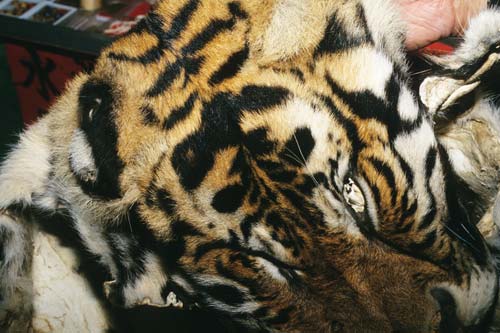 If found guilty, the 40-year-old from the town of Rantau Panjang in Kelantan, near the Malaysia-Thailand border, faces a total minimum fine of MYR500 000 (approximately USD152, 500) for the five charges. The maximum penalty for the offences under the law is a total of MYR 2.5 million (approximately USD 761,200).  
He also faces mandatory prison sentences that in total could stretch up to 25 years. The man, who works as a taxi driver, was allowed a bail of MYR50,000 (approximately USD 15,200). 
The carcasses were discovered on Monday night by Wildlife and Customs officers in the town of Tumpat, when they stopped the car the accused was driving. 
Authorities told press they believed that the accused intended to smuggle the animals into Thailand. Snare markings were evident, indicating that the animals have been hunted from the wild.  Malaysian media reports quoted authorities saying the animals could have been snared in jungles in the state of Terengganu and Kelantan; both home to wildlife-rich forests including a part of the country's premier national park – Taman Negara.
The last tiger part seizure to make headlines in Malaysia also took place in the north of the country when authorities raided and discovered bags of tiger skeletons and eight tiger skins amounting to 22 Tigers, in a house in Kedah in 2012.
Tumpat, the scene of the most recent seizure, also witnessed the conviction of a wildlife trader who was caught with a dismembered tiger in his freezer in 2005.
Tigers and leopards are both listed as totally protected species under Malaysian law and are under serious threat from poachers.
Last week TRAFFIC and WWF-Malaysia called for the establishment of a National Tiger Task Force to save Malaysia's remaining wild Tigers, through a memorandum delivered to the Prime Minister of Malaysia. 
The memorandum, which cited poaching as "the most immediate threat to the survival of wild Tigers", reported that between 2010 and 2011, close to 1,000 snares were detected in the Tiger priority landscapes.
TRAFFIC and WWF-Malaysia proposed that the Task Force be established under the purview of the Ministry of Natural Resources and Environment with the co-operation of multiple departments and agencies which were essential to ensure greater enforcement and more comprehensive management of efforts to save wild tigers.
TRAFFIC's Skin and Bones Revisited report was released in March 2013 and revealed that Malaysia had lost at least 94 Tigers between 2000 and 2012, based on the 33 seizures that were reported in the country during that period. 
---