Malaysian Tiger Action Plan adopted
Kuala Lumpur, 5th November 2009—Malaysia's roadmap to saving its wild tigers has received its most solid endorsement yet—a firm and clear commitment from Government to protect the species and the places it calls home. 
---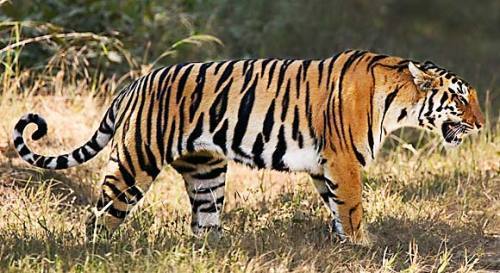 The National Tiger Action Plan was officially adopted by Malaysia's National Biodiversity-Biotechnologys Council yesterday. It is a detailed document that government and environmental NGOs jointly shaped over the past two years. 
Malaysia's Deputy Prime Minister, Tan Sri Muhyiddin Yassin, who chairs the Council said the government would take concrete efforts to protect the Tigers, double their number by 2020 and widen the area where wildlife is protected.
The high-powered Council counts Ministers of Environment, Health, Education, Science, Technology and Innovation as well as International Trade and Ministry among its members. 
Consultations on the draft plan between the Wildlife and National Parks Department and a coalition of NGOs that formed the Malaysian Conservation Alliance for Tigers (MYCAT) began in 2006. The coalition comprises TRAFFIC Southeast Asia, WWF Malaysia, Malaysian Nature Society and the Wildlife Conservation Society-Malaysia Programme. 
The plan, which was completed and released late 2007, spells out the direction and specific actions that government agencies and NGOs must carry out between 2008 and 2015 to secure a future for wild Malayan Tiger populations.
These actions include securing ample Tiger habitats, ensuring connectivity of habitats, protecting Tiger prey-species and enforcement against poachers and has even been built into spatial and infrastructure development planning. 
Its overall indicator of success will be 1,000 wild Tigers surviving on wild prey in the year 2020, in a secured, well-connected swathe of forest that runs through the centre of Peninsular Malaysia, referred to as the Central Forest Spine.
Malaysia currently has an estimated 500 wild Tigers, down from about 3,000 in the 1950s.
"This is a monumental step forward for conservation of Malaysia's Tigers and all wildlife," said Chris R. Shepherd, TRAFFIC Southeast Asia's Acting-Director. 
"There's much work ahead to realize the plan and many problems to address, but this is exactly the kind of commitment we hope all Tiger range States will show.
Among those problems, which the Council also addressed, were threats posed by encroachment into protected areas and poaching. The Deputy Prime Minister called on the all State Governments, the Wildlife and National Parks Department and the Forestry Department to work towards curbing the problem.
The adoption of the plan is a timely boost for conservation efforts and comes at a critical time for Tiger and Tiger prey survival. Poaching levels are high, as indicated by numerous recent illegal activities in Malaysia's forests.
In July, the government took another crucial step towards protecting Tiger prey-species by placing a two-year ban on the hunting of Sambar and Barking Deer.
Most recently, on October 26, Wildlife and National Parks Department arrested two men for poaching two Barking Deer, just off a highway that cuts through a biodiversity rich forest in the north of Peninsular Malaysia.
The men, both from the town of Gerik in Perak, will face charges under Section 68 of the Protection of Wildlife Act 1972 for possession of a protected species and could face up to RM3,000 in fines or a maximum three years in prison, or both, upon conviction.
Wildlife officers in Gerik town alone have handled 16 cases involving poachers so far this year, Perak State Wildlife Department Director Shabrina Mohd Shariff said.
In May, authorities caught two men with the skull and bones of a Tiger and arrested Cambodian poachers in Malaysia's forests with wildlife parts. Just last month, a Tiger was found in a snare by authorities and WWF's wildlife protection unit, unfortunately it died of its injures.
---