Malaysia seizes pangolins scales moving through mail centre
Kuala Lumpur, Malaysia, 27th November 2017 – Pangolin scales in the mail? That's exactly what Malaysian Customs found when they scanned 13 boxes from Sabah and Sarawak at the Kuala Lumpur International Airport's Mail and Courier Centre 10 days ago.
---
Weighing 337kg in total, the pangolin scales were seized in two batches. They originated from different address in Kuching in Sarawak and Kota Kinabalu in Sabah, but were all headed to the same address in Hong Kong.
The first seizure was on 16th November, comprising two boxes from Sabah and three more from Sarawak in East Malaysia. The second shipment seized 24 hours later was of two boxes from Sabah and six from Sarawak. 
"We have identified the individuals and investigations are underway to detect those involved in Sabah and Sarawak," KLIA Customs Director Abdul Wahabi Abdullah told a press conference today.
Abdul Wahabi also told press that the current case offered clues and possible links to two other record-breaking pangolin scale seizures of eight tonnes in July and five tonnes in August this year. 
"We are jointly investigating the case with wildlife authorities and our colleagues in Sabah and Sarawak and expect to make arrests soon," Abdul Wahabi added.
This latest seizure brings the total weight of scales confiscated by the Royal Malaysian Customs to a staggering 15 tonnes in just seven months.  
It is not known if the scales—which range from very small to very large—are from Asian or African pangolins, or a mix of both. When asked Abdul Wahabi said the scales would be sent to the Department of Widlife and National Parks for determination.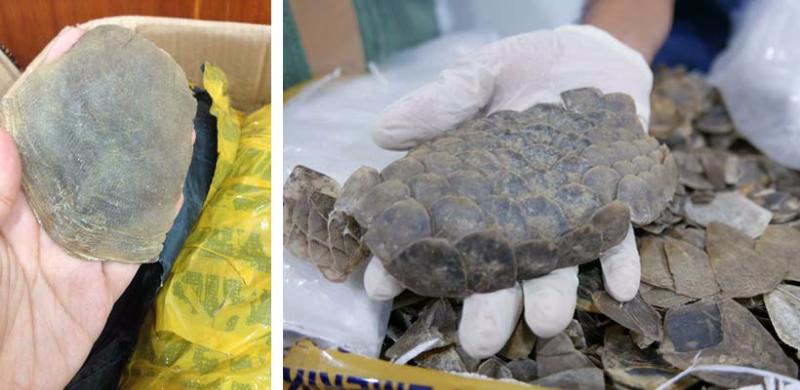 Declared as "samples" the scales were discovered following an X-ray scan of the boxes that were handled by Pos Aviation, a ground services provider offering ground handling, cargo handling, inflight catering and aircraft maintenance and engineering services to inbound and outbound international commercial airlines in Malaysia.
Previous scale shipments were seized either in KLIA's Free Commercial Zone or at Sepanggar port. The current case is the first seen in the Mail and Courier Centre, Pos Malaysia's dedicated international hub in KLIA, through which it connects Malaysia to 255 countries and territories globally.
"This case has unveiled just how complex and diversified a smuggling web can be. Logistics and courier services must realise that they are not exempt from being exploited by traffickers and must step up and improve monitoring of what they are transporting," said Kanitha Krishnasamy, Acting Regional Director for TRAFFIC in Southeast Asia.
"These recent seizures highlight a well-established network in Sabah and Sarawak, illegally collecting, sourcing or exporting pangolin scales. We hope the investigations by Customs and wildlife authorities smoke out the key players operating from these two States and leads to successful prosecution."
While these seizures are a testament to the dedication of the Royal Malaysian Customs, it presents a worrying pattern of wildlife smuggling involving East Malaysia States.
In 2009, Sabah Wildlife Department generously gave TRAFFIC access to logbooks seized from a warehouse that was responsible for the collection and trade of some 22,000 pangolins over 14 months. Recent scale seizures point to a connection that has perhaps been in existence for well over a decade.
Poaching and illegal trade are the main threats facing all eight African and Asian pangolin species. The animals' scales are in high demand for use in traditional medicine in many parts of Southeast Asia and China.
Despite being listed in Appendix I of the Convention on International Trade in Endangered Species of Wild Fauna and Flora (CITES), which bans international trade in the species, pangolins remain highly trafficked mammals.
---