Live pangolins and dried snake skins seized in Thailand
Bangkok, Thailand, 20th April 2011–A van packed to the brim with 173 live pangolins and 130 kilogrammes of dried snake skins was confiscated by Thai Customs officers in the wee hours of this morning in Prachuap Khiri Khan.
---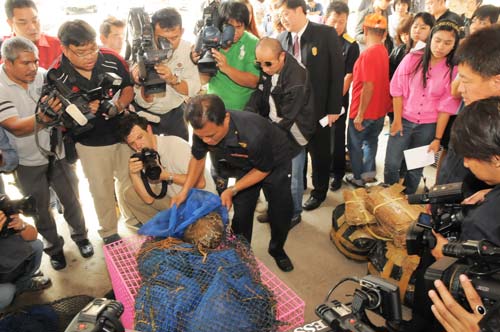 Officers stopped the white truck and its driver at 3 a.m in the town of Pranburi.  The Thai national who was arrested is believed to have transported the cargo from the Southern Thai town of Had Yai to Songkla and was headed to Bangkok.
Prachuap Khiri Khan, where the items were seized, is a bottleneck for transportation and an ideal location for authorities to focus their enforcement attention. It is a transit point through which all traffic from Indonesia and Malaysia must pass to access central and northern Thailand, as well as the rest of Indochina.
Thai Press reports say the truck driver was held for violations under Thailand's Customs regulations and for flouting laws that govern international trade in wildlife under the Convention of International Trade in Endangered Species of Flora and Fauna. 
The endangered Pangolin commonly turns up in seizures around the region and is trafficked in large volumes for the illegal meat and medicine markets.
The suspect and the wildlife seized have been handed over to the National Parks, Wildlife and Plant Conservation Department for further investigation and action.
This recent seizure follows close on the heels of the Customs Department's recent find of 1,800 monitor lizards which smugglers were attempting to traffic across the border from Malaysia in several pickup trucks.
"Thailand's Customs authorities should be congratulated for catching this shipment," said TRAFFIC Regional Director Dr. William Schaedla.  
"Pangolin trafficking up the Malay Peninsula and along this roadway are regular tragic occurrences.  TRAFFIC is hopeful that interdictions like this will become a deterrent that breaks the trade chain that is robbing Southeast Asia of its wildlife," he said.
In early April, a team of Malaysian wildlife officers in the northern state of Kelantan seized 40 pangolins, weighing a total of 200 kilograms, from a car believed to be heading for China via Thailand.
---