Leading courier companies in China say "no" to illegal wildlife trade
Beijing, China, 11th March, 2015—Representatives of 17 leading courier companies operating in China have made a public declaration pledging their zero tolerance towards illegal wildlife trade.
---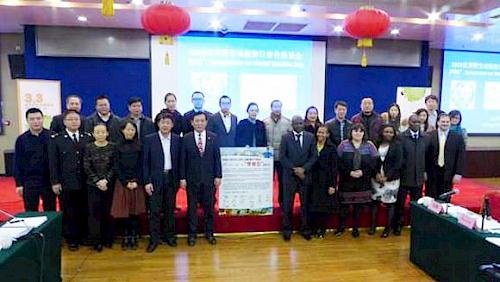 The pledge is an important example of how the private sector can take effective measures in combatting illegal wildlife trade.
The companies, who include EMS, DHL, FedEx, TNT and SF, account for 95% of the parcel courier market in China, according to the State-run Post Office. 
The zero tolerance pledge was made at a meeting convened by China's Convention on International Trade in Endangered Species of Wild Fauna and Flora Management Authority (CITES MA), TRAFFIC and the Post Office on 3rd March, World Wildlife Day. 
Representatives from the Ministries of Foreign Affairs, Public Security, State Administration for Industry & Commerce, Customs, State Forestry Administration(SFA), Forestry Police, Agriculture, General Administration of Quality Supervision, Inspection & Quarantine, Chinese Traditional Medicine Administration, Embassies from US, France, Zimbabwe, Botswana, South Africa, Kenya, leading courier companies, China Wildlife Conservation Association(CWCA) and international NGOs attended. 
During the meeting, TRAFFIC unveiled Moving targets: Tracking online sales of illegal wildlife products in China, a new report into routine monitoring of e-commerce websites in recent years.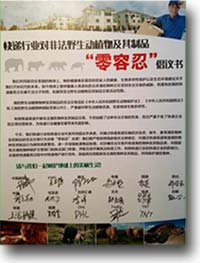 The report highlights how successful co-operation between TRAFFIC, enforcement departments and e-commerce platforms has led to a reduction of illegal wildlife trade through e-commerce platforms but there has been a shift in such activity towards social media. 
"Regardless of how buyers and sellers finally close their online deal, the logistics industry unwittingly becomes the main vector for the exchange of illegal wildlife products," said Zhou Fei, Head of TRAFFIC's China Office. 
"Engagement with logistics companies is therefore of paramount importance to crack down on such transactions and TRAFFIC warmly welcomes today's commitment by leading courier companies towards zero tolerance of illegal wildlife trade." 
During the one day meeting in China, participants learned about legislation governing wildlife trade and how to comply with it, how to monitor and detect illegal trade online, and some of the cases brought against those found to be trafficking wildlife goods. 
"TRAFFIC offers our training and assistance to courier companies to help them strengthen their efforts against wildlife trafficking," said TRAFFIC Programme Officer, Xiao Yu. 
TRAFFIC's work with the logistics sector in China has received strong support from the State Forestry Administration, Forest Police, CWCA and China Express Association.
The Beijing meeting forms part of TRAFFIC's ongoing engagement with the logistics sector. In January 2015, TRAFFIC and the World Customs Organization held a ground-breaking meeting that brought leading private sector companies moving goods across the globe together with wildlife trade experts to begin a process to strengthen partnerships to eliminate the risk of facilitating wildlife trafficking.
---