Ivory trade hot spot Hong Kong plans huge ivory stockpile burn
WWF and TRAFFIC call for government action to protect threatened elephants
Hong Kong, 14th May 2014—WWF-Hong Kong and TRAFFIC welcome the Hong Kong government's move to begin the destruction of 28 tonnes of confiscated ivory tomorrow – the largest single act of seized ivory destruction in history. We applaud Hong Kong's diligent and ongoing efforts to intercept illegal ivory, which sends a strong message that Hong Kong will not tolerate ivory trafficking. 
---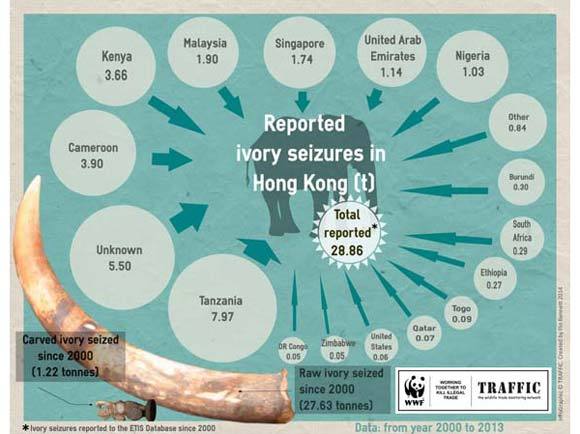 Since 2003, Hong Kong Customs have seized approximately 33 tonnes of illegal ivory (28.86 tonnes have been reported to the global Elephant Trade Information System database (ETIS) since 2000).1
Furthermore, ETIS data show that nearly six tonnes of ivory have been seized elsewhere during that time, en route to Hong Kong, while almost 2.5 tonnes of ivory were seized after leaving Hong Kong. Overall, Hong Kong is ranked fifth globally in terms of the quantity of ivory seized since 1989, highlighting the territory's importance as a major transit hub as well as an end-use market.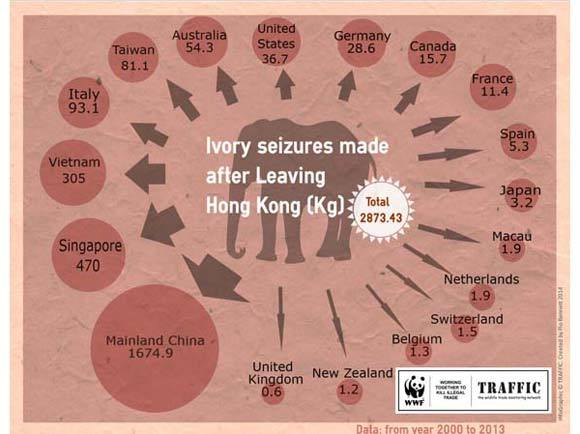 The incineration of 28 tonnes of ivory, which could take more than a year to complete, will be the largest recorded amount anywhere worldwide, dwarfing the recent ivory destruction events that have taken place elsewhere, including the US and mainland China. 
Cheryl Lo, Conservation Specialist at WWF-Hong Kong, said: "We appreciate the government's strong action and we also recognize that destroying ivory is only one of a suite of enforcement actions that need to be taken by any country implicated in ivory trafficking."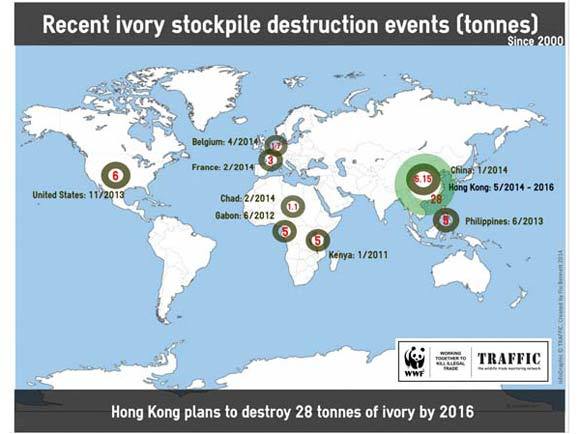 WWF and TRAFFIC are now calling on the Hong Kong government to:
•        Ensure tighter monitoring and control over the legality of ivory sold on the local market, including strengthening domestic regulation of ivory trade by making the public display of commercial licences mandatory in all retail shops which legally sell ivory products; and
•        Conduct independent audits of any stocks to be destroyed. This will allow Hong Kong to become a global role model for accountability and transparency.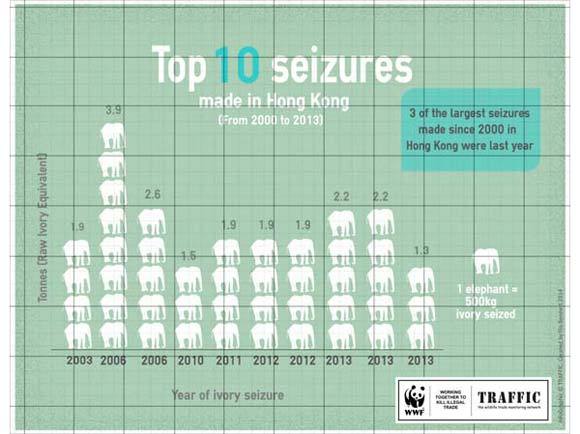 Dr Yannick Kuehl, TRAFFIC's Regional Director, East & South Asia said: "This remarkable ivory destruction event should be followed up by actions which ensure that Hong Kong continues to comply with international commitments under CITES,2 while the latest law enforcement techniques need to be brought to bear on this issue, including forensic examination of seizures, profiling of criminal activity and targeting of cargos from high-risk countries." 
Because Hong Kong's regulatory system needs to be strengthened, WWF and TRAFFIC are also urging Hong Kong consumers to stop purchasing any ivory products to aid efforts to conserve elephants. Recent figures show that the population of African elephants dropped from three to five million in the early 1900s to around 500,000 today. Approximately 22,000 elephants are being killed each year. The population of Asian elephants, a species classified by IUCN as Endangered, has also dropped – from 100,000 in the early 1900s to an estimated 40,000-50,000 today. 
The destruction of this ivory stockpile is a strong public statement by the Hong Kong government. While this statement is welcome, the effective protection of the world's elephants requires multiple measures to be taken by everyone: consumers, law enforcement officials and authorities in transit and range states. 
Actions needed include: 
•    Strengthening anti-poaching initiatives through training rangers and providing better equipment;
•    Monitoring illegal trade and identifying trade routes and countries;
•    Protecting elephant habitats and mitigating human-elephant conflicts; and
•    Reducing consumer demand for ivory products.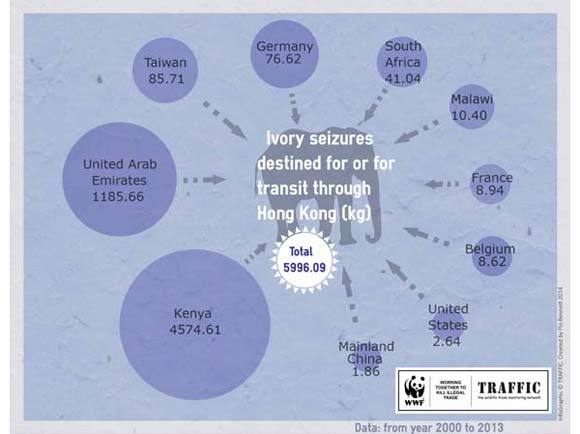 ---
Notes:
1 The Elephant Trade Information System (ETIS) is the world's largest database of elephant product seizures and contains the only extensive information on illicit trade available. It includes more than 20,000 records, representing law enforcement actions in around 100 countries and territories since 1989. ETIS is managed by TRAFFIC on behalf of Parties to CITES (the Convention on International Trade in Endangered Species of Wild Fauna and Flora).

2. CITES (the Convention on International Trade in Endangered Species of Wild Fauna and Flora) is an international agreement between governments. Its aim is to ensure that international trade in specimens of wild animals and plants does not threaten their survival. Currently there are 180 member countries. China is a member of CITES although Hong Kong has a separate Customs administration under the Special Administrative Region jurisdiction.
---