Indian Star Tortoises sent home
Jakarta, Indonesia, 12th March 2012—19 Indian Star Tortoises seized in Indonesia's largest airport, Jakarta's Soekarno Hatta, have been returned to India, their country of origin.
---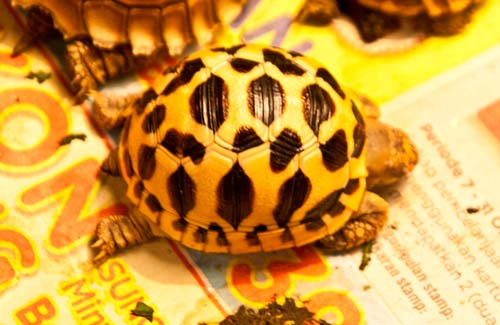 It is the first occasion tortoises seized in Indonesia have been returned to India. 
"Although the number of tortoises represents a tiny fraction of those being trafficked, their repatriation is symbolic of the growing commitment, dedication and co-operation between enforcement officers within Asia to tackle rising wildlife crime in the region," said Chris R. Shepherd, Deputy Regional Director of TRAFFIC Southeast Asia.
The animals were part of a seizure made by Customs in Jakarta on 7th November 2011 after an Indonesian woman was stopped returning to Indonesia from Bangkok, Thailand, with the tortoises and various snakes, but without the necessary permits.
Although her cargo included 47 Indian Star Tortoises, 27 of them were already dead or died shortly after she was stopped. A further tortoise died in the quarantine station awaiting repatriation. 
Care and return of the tortoises was co-ordinated in Indonesia by Customs, Quarantine and the Directorate General of Forest Protection and Nature Conservation.
The tortoises have been sent to Arignar Anna Zoological Park (AAZP), Chennai, from where it is anticipated they will soon be released into the wild.
Indian Star Tortoises Geochelone elegans are native to India, Pakistan and Sri Lanka, and are protected by law in all three countries as well as protected through the Convention on International Trade in Endangered Species of Wild Fauna and Flora (CITES). 
Indian Star Tortoises are extremely popular as pets in Jakarta and other parts of South-East Asia, and illegal trade to meet this demand is considered one the greatest threats to their survival.
"Authorities in Southeast Asia need to demonstrate to smugglers, traders and buyers that the illegal trade in Indian Star Tortoises and other reptiles will not be tolerated," said Shepherd. 
"Traders illegally selling reptiles and other animals need to be put out of business and behind bars."
---