Inaugural meeting of Latin American stakeholders to develop equitable forestry management practices
Quito, Ecuador, 18th October 2014—As a part of an EC-funded South America timber project, TRAFFIC and partners hosted a forum on "Governance, Legality Verification Systems, and Competitiveness in the Latin American Forest Sector", in Quito, Ecuador that concluded earlier this month. 
---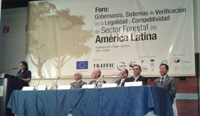 The workshop sought to facilitate the exchange of experiences and lessons learnt to guide decision-making processes that will strengthen institutions and contribute to fair and equitable forest management.
The forum, the first of its kind in Latin America, was organized by TRAFFIC, European Forestry Institute, EU FLEGT FAO Programme, IUCN, the World Resources Institute, WWF and the Ecuadorian Ministry of Environment, with the support of the Sustainable Forest Management Corporation (COMAFORS). 
Around 140 stakeholders representing the public and private sectors, indigenous communities and other civil society representatives from 10 Latin American countries (Mexico, Honduras, Guatemala, Nicaragua, Panama, Bolivia, Brazil, Colombia, Ecuador and Peru), as well as Europe and the USA, attended the four-day event.
The meeting was set against a backdrop of the recent tragic killings of six indigenous people by illegal loggers near the Peru/Brazil border. This sad news helped focus to discussions by the expert participants on issues related to forest governance. 
Daily themes centred around three stakeholder groups: day one focussed on forest governance in general and was targeted at indigenous representatives; day two on traceability and control systems targeted the public sector; while the third day examined legal timber trade and competitiveness targeted at the private sector. All stakeholders were encouraged to share experiences and opinions through presentations, panel and plenary discussions, working groups and interviews.
"The terrible news of the recent killings has added poignancy and urgency to discussions on forest governance issues between all stakeholder groups," said Steven Broad, Executive Director of TRAFFIC. 
"It has been quite remarkable and encouraging to see these diverse stakeholders discussing and agreeing on important issues for the region. I hope this forum will prove a major step forwards for a combined sectorial approach towards improved forest governance in Latin America."
A field trip to Golondrinas on the final day helped demonstrate the practical application of forest sector control and monitoring by both public and private entities in Ecuador. It included a visit to a "tree museum", an interactive educational museum on timber-related issues hosted by the Ministry of Environment; a trip to a women's co-operative that utilizes waste wood and makes and markets wooden products; and a visit to a COMAFORS factory that provided a fascinating insight into the plywood making industry from log to finished product.
---