Illegal wildlife trade boarded up at Russian Far East border
Vladivostock, Russia, 6th May 2009—Information boards about illegal wildlife products have been put on display at Far Eastern Customs Directorate checkpoints along the Russian-Chinese border as part of a TRAFFIC-WWF initiative in the Russian Far East. 
---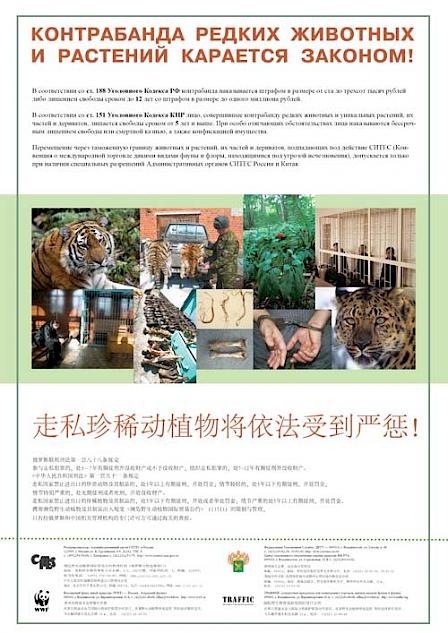 The bilingual boards—in Russian and Chinese—provide travellers with information about the legislation governing the transportation of wildlife products, and were designed with the input of experts from the Vladivostok branch of the Russian Customs Academy, the Russian and Chinese CITES Management Authorities plus TRAFFIC and WWF staff. 
The information boards also feature images of convicted Russian and Chinese wildlife smugglers. It is the first time such boards have appeared at regional Customs checkpoints and boards will be displayed at 16 Customs checkpoints in Ussuriiskaya, Vladivostokskaya, Khabarovskaya, Blagoveschenskaya, Birobidzhanskaya, Grodekovskaya and Khasanskaya Customs, plus Vladivostok International Airport. 
"The input of several governmental and non-governmental Russian and Chinese authorities is an indication of the collaborative effort needed to solve cross-border problems associated with wildlife illegal trafficking," commented Natalia Pervushina, Co-ordinator of TRAFFIC's programme in the Russian Far East. 
"The Russian Far East is one of our most biologically diverse regions, but it is also the one that suffers most from poaching and illegal trade in animals and plants," noted Sergey Lyapustin, a former Customs Officer, now Associate Professor in the customs control department of the Vladivostok Branch of the Russian Customs Academy. 
Although this is the first time public information boards have been used in the Russian Far East, they have been used elsewhere, notably in Moscow and in international airports in India and the UK. 
"Special attention should be paid to combating illegal wildlife trafficking during the current economic crisis when people may be tempted to generate extra income through illicit means," warned Pervushina.
---