Illegal souvenir warning for European travellers
Frankfurt, Germany, 1st July 2011—As the summer holiday season gets underway in Europe, WWF Germany in partnership with German Customs has launched a conservation awareness campaign warning travellers to be careful about the souvenirs they bring home.
---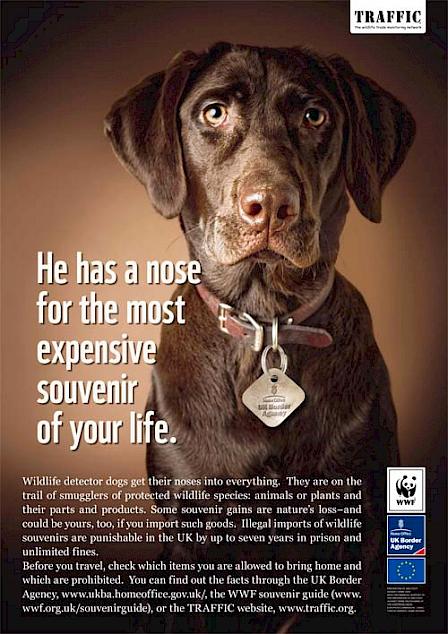 To help spread the message, more than 72,000 leaflets in six European languages (German, Czech, Hungarian, Italian, Lithuanian and English) have been produced, featuring a simple 'traffic light' system to help tourists decide what items to buy. 
TRAFFIC provided technical advice for the leaflets, which will be widely distributed, along with posters featuring a sniffer dog, described as having "a nose for the most expensive souvenir of your life." 
At the launch of the awareness campaign, German Customs officers put on a demonstration featuring the use of sniffer dogs in detecting wildlife goods. The use of such dogs is proving successful in a variety of situations. 
Last month, an international expert workshop in Treviso, Italy, took place on the use of wildlife detector dogs by enforcement officers based in a number of European Union Member States (Austria, the Czech Republic, Germany, Italy, Lithuania, Slovakia and the UK). 
TRAFFIC presented initial findings of a report into wildlife detector dog programmes in the EU.
The workshop was organized by WWF Germany, who lead a consortium of organizations, including TRAFFIC, implementing a project funded by the European Commission Directorate General Home Affairs that aims to improve the enforcement of CITES (Convention on International Trade in Endangered Species of Wild Fauna and Flora) regulations in the EU through the increased use of wildlife detector dogs.
Following the workshop, several countries have indicated they will be expanding their wildlife detector dogs programmes and increasing the range of products the dogs are trained to find.
---