Discussions on seized and rescued wildlife—one aftermath of illegal trade
Bogor, Indonesia, 10th June 2015—TRAFFIC last week addressed a meeting of global wildlife sanctuaries and rehabilitation centres in Southeast Asia, underscoring the impact the region's rising demand for exotic animals has on endangered species.
---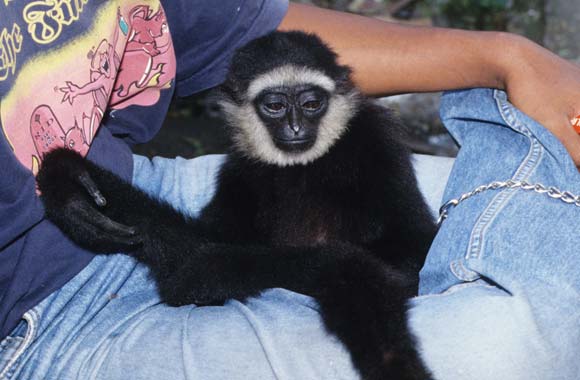 Representatives of 37 rescue centres and non-governmental organizations from ten countries working on animal welfare and wildlife conservation attended the Global Federation of Animal Sanctuaries (GFAS), Inaugural Asia meeting. 
Claire Beastall, TRAFFIC's Training and Capacity Building Co-ordinator provided an overview of the drivers and impacts of the multi-billion dollar illegal wildlife trade on species. 
"Whilst the perception from many people is that illegal wildlife trade largely involves those living close to the forests where many of these animals are found, in reality the trade is most often driven by the demands of the rich, rather than the needs of the poor," said Beastall.
Beastall told the workshop that with disposable incomes rising across the region, luxury items once affordable only to the super rich are now accessible to a far greater number of people.  They include orangutans and gibbons, which are largely in demand as pets and for the entertainment industry, and bears, for pets and as food and traditional medicine.
She also emphasized that increasingly, the trade in wildlife is carried out through well-organized criminal networks.  
Discussions at the workshop focused on the magnitude of the trade in animals, communications to effect a change in attitudes and behaviour towards the consumption of illegal wildlife products and strategies to provide optimum standards of care and effective outreach.
Participants also discussed how enforcement of wildlife protection legislation could be strengthened and heard presentations by reintroduction and rehabilitation practitioners who work with gibbons, orangutans, siamangs and bears among others. 
The workshop highlighted the plight of animals confiscated from traders as a result of illegal trade.  
According to the event's organizers, for many confiscated wild animals, reintroduction into the wild is not an option due to trauma and injury.  Significant resources are then required to provide these animals with appropriate care.  Illegal trade also creates serious conservation and welfare issues.
GFAS is a global accreditation body aimed at improving standards of animal welfare in all wildlife sanctuaries and rehabilitation centers around the world. The meeting was co-sponsored by The Arcus Foundation.
---