Customs seize tonnes of reptiles in Malaysia
Bukit Kayu Hitam, Malaysia, 24th December 2010—As 2010 draws to a close, Malaysian Customs officials report their largest contraband seizure of the year after they confiscated 4.3 tonnes of reptiles from a lorry parked near the Malay/Thai border. 
---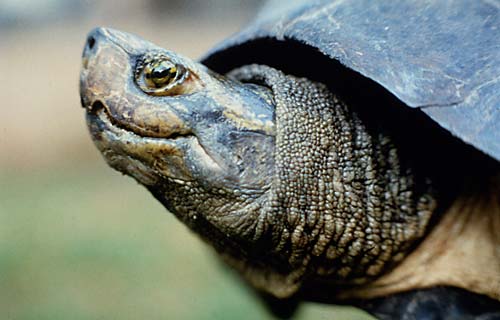 Working on a tip-off, the Customs officials confiscated a haul comprising over 1,800 monitor lizards, snakes and freshwater turtles and tortoises which were concealed amongst empty fruit boxes and timber on 20th December.
All of the specimens are listed in Appendix II of CITES (the Convention on International Trade in Endangered Species of Wild Fauna and Flora) meaning that any international trade in them requires the appropriate permits. 
"TRAFFIC highly commends the Customs officers responsible for this seizure. However, the scale of this haul underlines the fact that the illegal trade of protected wildlife in Malaysia remains a serious problem", said Chris R. Shepherd, Deputy Director of TRAFFIC Southeast Asia.
"Without the commitment of Customs and enforcement bodies alike across the network of ASEAN countries the illegal trade in endangered species will continue, threatening the future survival of wild animals and plants."
Among the animals seized were 18 Brown Tortoises Manouria emys and 10 Yellow-headed Temple Turtles Hieremys annandalii, both of which are classified as Endangered on the IUCN Red List, as well as over 400 Giant Asian Pond Turtles Heosemys grandis, which are listed as Vulnerable.
Globally, many turtle populations are under siege as they are being removed from the wild at an unsustainable rate, threatening the future survival of many taxa within this enigmatic group.
These three species, as well the Bengal Monitor Varanus (nebulosa) bengalensis, which was also seized, are protected in Malaysia according to the Wildlife Protection Act (1972).
Under Malaysia's newly passed Wildlife Conservation Act (2010), which is yet to be implemented, all species in this seizure are protected and individuals caught hunting or trading them could face hefty punishment. 
With the increase in wealth and concomitant spending power of many Asian nations in recent decades the demand for wild meat—the likely fate awaiting these animals in this seizure—has increased substantially. 
Malaysia along with its ASEAN neighbours is a major source area for illegally traded wildlife in international trade. Given that wild animals are internationally trafficked by land, air and sea, this seizure highlights the important role that Customs authorities play in the war on illegal wildlife trade. 
Following this seizure the majority of animals were auctioned off to wildlife dealers while the remainder, those protected in Malaysia, were handed over to the Wildlife and National Parks Department.
---