Customs Department gears up to fight wildlife crime in Maharashtra
Mumbai, India, 14th June 2011—A workshop organized by TRAFFIC India in association with the National Academy for Customs, Excise & Narcotics (NACEN), Western region, Bhandup (E), Mumbai on "Strengthening Wildlife Law Enforcement" in Mumbai, Maharashtra began today. Thirty officials from the Customs department and the Directorate of Revenue Intelligence of the western region are participating. 
---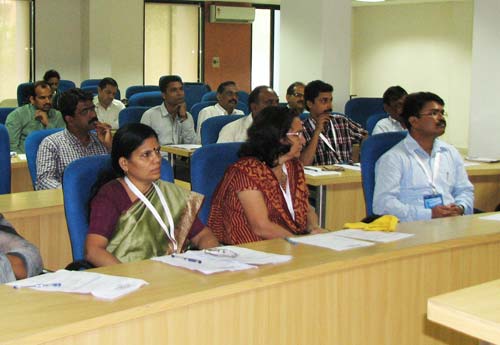 The two day workshop aims to provide participants with an overview of organized illicit wildlife trade and introduce them to the latest tools and techniques available to curb it. Those conducting sessions include Mr. Samir Sinha-Head of TRAFFIC India, Dr. S P Goyal, a wildlife forensics expert, Dr Deepak Apte, an expert on marine issues, both from the BNHS, Mumbai, Ritwick Dutta, Advocate from the Hon'ble Supreme Court of India and wildlife & bird trade expert, Abrar Ahmed of TRAFFIC India. 
The workshop was inaugurated by Mr Arun Tondon, Additional Director General, NACEN. Dr A R Rahmani, Director of the Bombay Natural History Society was the Guest of Honour. Also present were Mr T K Samant, Joint Director and Mr B.P. Singh, Deputy Director of NACEN. 
Mumbai's well established air, sea and land route connections provide opportunities for illegal wildlife traders to smuggle their goods. Marine species like sea horses, shells and corals are smuggled to other parts of the world, and Mumbai also lies on a major smuggling route for other wildlife goods including Red Sanders, ivory, live birds and animals. 
Mr Arun Tandon, IRS – ADG, NACEN, told those present about his concerns over illegal wildlife trade and emphasized the vital role of Customs in the enforcement and control of such trade. He also spoke about one of the largest snake skin seizures ever that took place in Mumbai on 20 December 2005, when a staggering 55 000 reptile skins were seized by the Directorate of Revenue Intelligence at Mumbai Port. 
Mr Tandon congratulated TRAFFIC India for their leading role in arranging specialized training events in wildlife law enforcement for Customs officials. 
Samir Sinha , Head of TRAFFIC India, described the need for sophisticated methods to tackle organized transnational wildlife crime and also reinforced the significant role played by Customs in curbing illegal wildlife trade. 
Relevant materials, including a compendium of recent wildlife seizures in the region and relevant laws, were distributed to participants as well as CDs on various other related themes and books, posters etc pertaining to wildlife law and enforcement issues. 
A wildlife forensic sample collection kit developed jointly by the Wildlife Institute of India and TRAFFIC has also been distributed to participants. The customized kit enables officers to collect samples for forensic analysis as per prescribed protocols. An identification kit for ivory will also be distributed. This kit has been uniquely designed and adapted to test ivory on the spot and will be of immense value for Customs officers.
---