Candelilla Wax: Uncovering the beauty and blemishes behind wild-sourced ingredients
Found only in the vast wilderness of Mexico's Chihuahuan Desert, yet encountered daily by people the world over, candelilla wax tells a fascinating story that is both life-threatening and life-sustaining. The newly published WildCheck report presents the first-ever social and biological risk ratings for candelilla wax and eleven other carefully selected wild plant ingredients – the Wild Dozen – along with the significant development opportunities for local communities and ecosystems that these plants present. 
---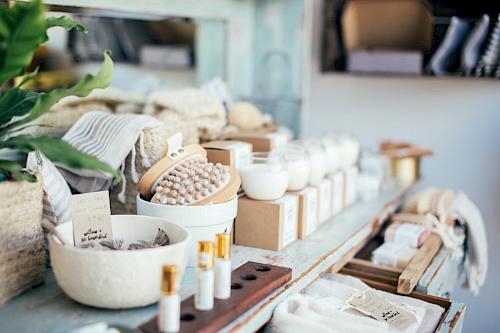 Despite its unfamiliar name, candelilla wax, or E902, is found in a wide range of products. It provides a vital source of livelihood to impoverished local communities of the Chihuahuan Desert; top importers include the USA, Japan, Germany and France, and its international trade is regulated by CITES*. In fact, its versatility as an ingredient makes it the most traded wild-sourced medicinal and aromatic plant listed on CITES Appendix II, by volume. 
We may not think twice about this E number when we buy a lipstick, or even know that it's an ingredient within it. Behind this seemingly minor ingredient, there can lie complex supply chains and significant environmental and social risks. But there are also opportunities for sustainable management that could benefit the local ecosystem and the communities that depend on this plant."
Caitlin Schindler, TRAFFIC's Wild at Home Project Manager
A wax covers the stalks of the candelilla plant during the dry season to minimise water loss through evaporation. This wax is the ingredient that finds its way into cosmetics, including lipsticks and lotions, often as a vegan alternative to other waxes like beeswax. It's also used in chewing gum, food, medicines, and other industrial products such as adhesives and polishes. 
Within the WildCheck report, TRAFFIC, FAO, and the IUCN SSC Medicinal Plant Specialist Group point to some of the social and biological ramifications of its trade, but stress the responsible sourcing opportunities that businesses can harness to the triple benefit of themselves and local communities and ecosystems in Mexico. 
Current issues  
The greatest danger in sourcing candelilla comes at the wax extraction stage. After collection, workers must immerse the plants in a mixture of water and acid, and the wax becomes separated as the liquid boils. This is a hazardous operation which poses risks of immediate and long-term health effects, particularly since visits to processing facilities have found improper storage of sulfuric acid and workers handling the chemical without safety equipment. 
Candelilla harvesters (known as candelilleros) often face other poor labour conditions, too. Since the plant is found mainly in remote parts of the desert, harvesting trips may last several days and involve setting up temporary camps along arduous journeys. Candelilleros tend to be among the poorest in Mexican society and are paid very little for the challenging work they do, and their limited employment opportunities can render them vulnerable to exploitation. 
Besides the humanitarian risks, the report highlights that the candelilla plant has not yet been assessed by The IUCN Red List of Threatened Species™, and its limited distribution coupled with a trend of destructive harvesting techniques throws the survival of this valuable species into question. 
The purpose of our social and biological risk ratings is not to dissuade businesses and consumers from using wild plant ingredients that can be harvested sustainably. On the contrary, it is to guide where steps can be taken to secure the long-term survival of wild-harvested species and availability of the sourced ingredients, improve marginalised livelihoods and enhance business ethics."
Danna J. Leaman, Co-Chair of the IUCN SSC Medicinal Plant Specialist Group
Sustainable Opportunities 
A staggering 60-90% of medicinal and aromatic plant species in trade are wild-harvested, yet the sustainability of their harvest is relatively unknown. The WildCheck report seeks to safeguard the future of people and plants by assigning low, medium or high social and biological risk ratings to wild-harvested plant ingredients, to help businesses and consumers uncover the hidden stories behind their ingredients and make informed, responsible decisions about what they buy.  
As consumers become increasingly curious about the origins of their purchases, companies can be seen as leaders by attaining independent (third party) ethical and sustainability certifications, advocating for workers' rights and, in the case of candelilla wax, ensuring workers in their supply chain have adequate health and safety practices and equipment in place. 
Businesses may also be able to enjoy a premium for sustainably-sourced, wild ingredients – as long as they can demonstrate these claims to consumers, who increasingly seek natural, sustainable products with a positive impact. 
We encourage industries using the Wild Dozen, or any other wild plant ingredients, to delve into their supply chains - to understand the working conditions of harvesters that are supplying the ingredients they use and consider how they can support a sustainable harvest and good working conditions. The report provides plenty of suggestions of how to achieve this."
Sven Walter, Senior Forestry Officer at FAO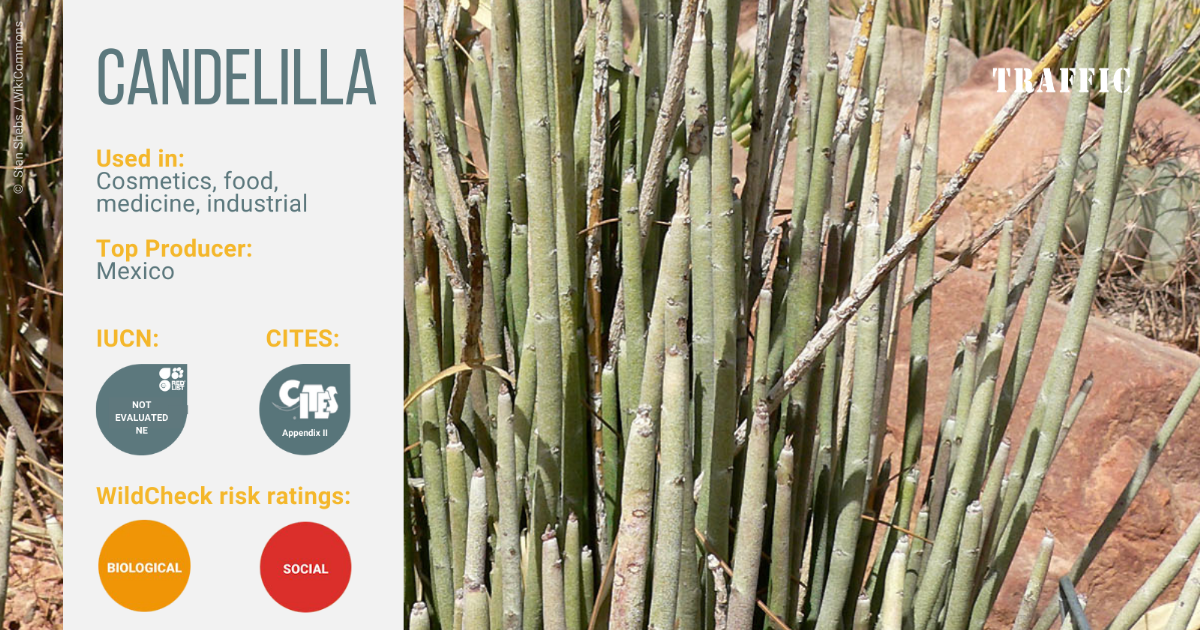 ---
Notes:
More information on the WildCheck Report
The 'Wild Dozen' is a list of twelve wild-harvested plant ingredients, selected to represent the types of risks and opportunities that can face all wild-harvested plants.
The candelilla plant is Euphorbia antisyphilitica Zucc. E902 is the European food additive number for candelilla wax.
*CITES is the Convention on International Trade in Endangered Species of Wild Fauna and Flora.
---
About Food and Agriculture Organisation of the United Nations (FAO)

The Food and Agriculture Organization (FAO) is a specialised agency of the United Nations, supporting the transformation to more efficient, inclusive, resilient and sustainable agri-food systems. The conservation and sustainable use of wild plants and non-wood forest products is a key area of work in the FAO Forestry Division, with the aim of contributing to the sustainable management of the world's forests, the conservation of biological diversity, and ultimately improving livelihoods, food security and nutrition. 
About IUCN Species Survival Commission:

With over 10,500 members in 174 countries, the Species Survival Commission (SSC) is the largest of the six expert commissions of IUCN and enables IUCN to influence, encourage and assist societies to conserve biodiversity by building knowledge on the status and threats to species, providing advice, developing policies and guidelines, facilitating conservation planning, and catalysing conservation action. Learn more at www.iucn.org/ssc
About IUCN MPSG

The IUCN SSC Medicinal Plant Specialist Group (MPSG) is a global network of specialists contributing within our own institutions and in our own regions, as well as world-wide, to the conservation and sustainable use of medicinal plants. The MPSG was founded in 1994 to increase global awareness of conservation threats to medicinal plants, and to promote sustainable use and conservation action. 
About Swedish Postcode Foundation
The Swedish Postcode Lottery believes that a strong civil society is essential for creating a better world. The Postcode Foundation's goal is to carry out that mission through projects that challenge, inspire and promote change.