Cameroon elephant poaching crisis spreads
Cameroon, 29th March 2012—Just weeks after a military offensive against elephant poachers in Bouba N'Djida National Park in the north of Cameroon, 12 suspected poachers have been arrested and 14 elephant tusks confiscated close to protected areas in the southeast of the country. 
---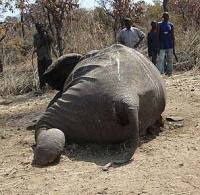 In February, close to 450 elephants were slaughtered in Bouba N'Djida National Park by poachers believed to originate from Sudan who entered Cameroon through neighbouring Chad. Prior to the latest attacks, there were believed to be fewer than 600 elephants living in the park. 
According to John Scanlon, Secretary General of CITES (the Convention on International Trade in Endangered Species of Wild Fauna and Flora), the incident "reflects a new trend we are detecting across many range States, where well-armed poachers with sophisticated weapons decimate elephant populations, often with impunity." 
In southeast Cameroon, rangers confiscated six firearms and 30 kg of elephant meat in the joint anti-poaching operation that involved rangers from Boumba-Bek and Nki National Parks. 
An estimated 4,000 forest elephants are found in Boumba-Bek and Nki National Parks, where they are at risk from poaching groups who appear to have strong links with a sister group based in neighbouring Congo Brazzaville. 
On 3-5th April, the Government of Gabon, with support from the US Government will be holding a regional workshop in Libreville, Gabon, in response to the growing threat of poaching and trafficking of protected and endangered species in the region. 
The workshop will be a further step towards the establishment of a regional action plan to tackle poaching and wildlife trafficking, a process earlier developed with support from TRAFFIC and WWF. TRAFFIC's Central African Director Stéphane Ringuet will be among those presenting at the meeting.
---