Beijing reception focuses on wildlife conservation and responsible travel in South Africa
Beijing, China, May 2016—Last week, TRAFFIC, together with WWF and the British Embassy, hosted a reception on wildlife conservation in South Africa for 70 participants from the tourism industry, trade associations, government agencies, media and selected visitors to Africa.  
---
Li Chenyang, a Project Manager with TRAFFIC, opened proceedings with an overview of the trade in illegal wildlife products, its relevance to tourism and industry stakeholders, and the threat it poses to the survival of threatened species. She also spoke about the legislation and potential penalties any tourist attempting to purchase and import illicit wildlife products into China faces. 
At TRAFFIC's invitation, Bradley Schroder, the CEO of Welgevonden Game Reserve in South Africa and Gregory Canning, a Researcher at the Reserve, spoke about the conservation challenges facing the African Elephant, rhinos, lions, and other species. Two days earlier they had both completed the Beijing Great Wall Marathon wearing specially-made rhino costumes, one of many "rhino marathon" events taking place worldwide that attracted huge interest from the Chinese public and media. Their unique experiences and passion for conservation deeply touched the audience. 
The two spoke about how illegal wildlife trade and poaching have become orchestrated by highly organized international criminal syndicates, whose activities pose ever greater threats to anti-poaching personnel and which have resulted in high-level global attention being paid to the issue.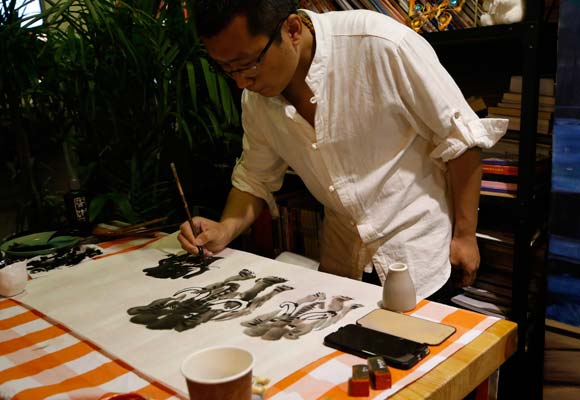 Bradley stressed that it is not helpful to point the finger of blame for wildlife crime at particular countries, but that the issue has to be addressed through a shared international response. He spoke about the increasing collaboration between South Africa and Mozambique, for example, with the latter improving its anti-poaching legislation and the two countries constructing border fences in conservation areas. He also spoke about the need for education and the efforts individuals can make to address the wildlife crisis. 
"Ordinary people can make a difference! We don't require qualifications to start, we qualify by starting and working together as a team," said Bradley. 
Bradley noted that China was a key strategic partner who had made conservation efforts and showed a strong desire to help.
"TRAFFIC delivered a simple but firm message to Chinese tourists travelling abroad: Do not engage in illegal wildlife trade," said Zhou Fei, Head of TRAFFIC's China office. "Reducing demand for endangered wildlife products can greatly support Africa's wildlife conservation efforts."
© TRAFFICThe event was supported by Utour International Travel Service Company (Utour), one of the largest travel agencies in China that organizes trips to Africa. Utour invited tourism club members to the reception as well as Deng Wei, a professional Utour tourist guide for African itineraries whose clients are all told not to purchase or transport illegal wildlife products.
The reception led to many fruitful discussions among the participants, who chose to create a forum on Wechat (the most popular social media platform in China) in order to continue discussing conservations issues. 
TRAFFIC also invited Da Donggou, a passionate wildlife artist, to demonstrate his elephant and rhino Chinese painting skills, which also served as a symbol for alternative sustainable souvenirs. 
The tourism reception was a follow-up to TRAFFIC's workshop on Addressing Illegal Wildlife Trade in Mozambique and South Africa held in mid-April 2016, which targeted tourists and Chinese nationals based in Africa.
---
Notes:
About Welgevonden Game Reserve
The Welgevonden Game Reserve is a non-profit organization with 35,000 ha of land in the north of South Africa registered as a protected area by the South African government. Eco-tourism in the game reserve makes a small financial contribution towards wildlife conservation on this land compared to donations.
---