15 travellers arrested after Hong Kong Customs seize 790 kg ivory
Hong Kong, 10th June 2014—Authorities in Hong Kong have arrested 15 passengers aboard a flight from Angola after a total of 790 kg was found in baggage aboard the plane.
---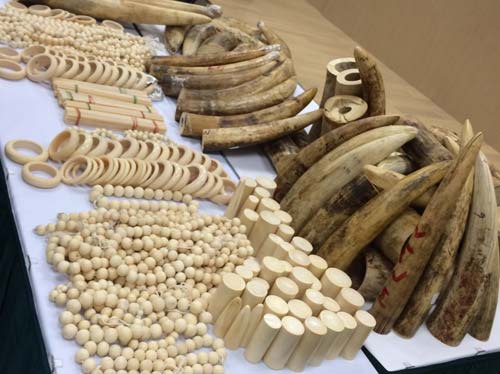 The 15 passengers—all reportedly Vietnamese citizens—had flown from Angola via Ethiopia and were travelling onward to Cambodia via South Korea. They were stopped during a routine inspection by Customs officers and both raw and worked ivory was found. 
"The Hong Kong authorities are to be congratulated for their diligence in detecting this sizeable quantity of ivory, but the case throws up many questions and could be harbinger of new criminal tactics emerging in the illicit ivory trade," said Tom Milliken, TRAFFIC's ivory trade expert. 
"This case seems to suggest employing a veritable team of 'mules' to move a large quantity of ivory by dividing it up into check-in baggage sized units for air travel.  That's something very different to what we typically see: the large-scale movement of ivory in containerised shipments through seaports," said Milliken.     
The role of Hong Kong as a major transit hub and destination market has previously been highlighted. Last month, authorities began the destruction of around 28 tonnes of stockpiled ivory seized in Hong Kong in recent decades. 
Photographs of the latest haul show raw ivory along with carved nameseals, bangles and prayer beads. 
 "Angola has one of the world's largest unregulated illegal ivory markets and these products could have been massed produced there.  Also, there are many Asian nationals working in Angola," says Milliken.
 "As for the destination for this contraband, my guess is that the products are directed at Chinese consumers.  Ivory nameseals are popular in China, so that could indicate the final destination for this shipment—but Chinese tourists are buying ivory products all over Asia so there is no telling where this was going.  Cambodia could be a 'backdoor' for the markets in Thailand, Laos or Viet Nam, or to China itself." 
"Clearly there's lots more this case may reveal about the trafficking of ivory between Africa and Asia, while the compulsory forensic examination of the ivory as mandated through CITES may provide further insights into its origin."
CITES is the Convention on International Trade in Endangered Species of Wild Fauna and Flora.
---