Seizures at Thailand's main airport signal resurgence of wildlife smuggling via air
In luggage, freight and even mail - wildlife trafficking through air transport in Thailand has returned with a bang following the resumption of international air travel.
---
Close to 1,000 live animals for the pet trade have been seized in such smuggling attempts at the country's main air transport hub – Suvarnabhumi International Airport – so far this year.
Traffickers who were biding their time during the pandemic-related movement restrictions, are back in force now and this spate of smuggling attempts is reason for all Southeast Asia's airports to be on alert."
Kanitha Krishnasamy, Director for TRAFFIC in Southeast Asia
"These seizures show that Thai authorities have anticipated the problem and been vigilant, and we encourage others in the region do the same," said Krishnasamy.
The most recent cases in Suvarnabhumi International Airport were two seizures that took place this week involving a large number of tortoises where trade is either regulated or prohibited from trade under the Convention on International Trade in Endangered Species of Fauna and Flora (CITES).
One was a seizure of 116 tortoises from the luggage of a Ukrainian national who had travelled from Dar Es Salaam, Tanzania with a transit in Addis Ababa, Ethiopia. Among tortoises in the traveler's possession were the Critically Endangered and CITES Appendix I-listed Radiated tortoises Astrochelys radiata, as well as the CITES Appendix II-listed Aldabra giant tortoises Aldabrachelys gigantea.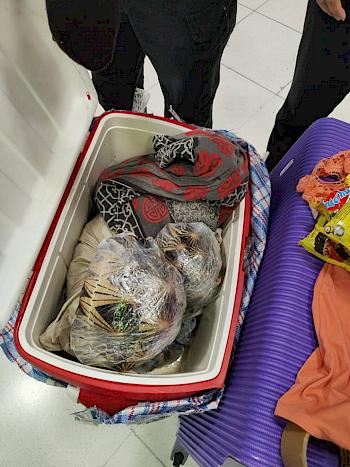 The other involved the discovery of 81 Indian Star tortoises Geochelone elegans, also a CITES Appendix I-listed tortoise, in the luggage of an Indian national traveling from Chennai in India to Bangkok.
Just last week, authorities detected 109 animals in the luggage of two Indian nationals who were about to depart Thailand for Chennai, India. These included two Armadillos, two Albino Malayan Porcupines Hystrix brachyura, 35 turtles and 70 lizards, iguanas and skinks.
Other seizures at the airport included one involving 35 Horned desert vipers Cerastes cerastes and 601 lizards, live snakes and scorpions shipped as freight from Egypt and discovered at a Thai Airways arrival cargo building at Suvarnabhumi Airport in May.
In April, 34 live tortoises of five species were seized in a parcel at Bangkok Suvanabhumi Airport Post Office. The parcel was destined for the Philippines and included the Critically Endangered Burmese Star Tortoise Geochelone platynota, and the Endangered Black Pond Turtle Geoclemys hamiltonii, both listed on CITES Appendix I and prohibited from commercial international trade.
Suvarnabhumi Airport is no stranger to wildlife smuggled in luggage. In pre-pandemic times, authorities at the airport recorded more than 14,000 live animals confiscated at the airport between 2010-2020, with CITES Appendix I-listed freshwater turtles and tortoises topping the list, making up more than 70% of the smuggled animals.
Recent airport seizures in other countries originating from Thailand also highlight the continued demand for wildlife in the pet trade and Thailand's role in supplying them to the international market.
In May, Customs officials in the Chennai International Airport seized albino Porcupine, Tamarin monkey and leucistic Sugar Gliders in two back-to-back incidents from passengers arriving from Bangkok. Chennai airport is among the top airports in Asia where live animals are smuggled from or through. It recorded the highest number of wildlife seizure incidents in a TRAFFIC study that analysed seizure incidents at 18 Indian airports between 2011-2020.
In February, the Philippine Bureau of Customs seized a consignment from Thailand with close to 40,000 animals, the majority of which were exotic fish.
We've always known that movement restrictions and closed international borders would not stem wildlife smuggling forever. Clearly, it's now time for Southeast Asia to reinvest in consistent and thorough monitoring at airports. It's also time for countries like Thailand, which a huge number of the trade of wildlife as pets have taken place, to strictly regulate the industry that supplies the trade and revive campaigns to reduce consumer demand for these wildlife.
Maethinee Phassaraudomsak, TRAFFIC Data and Research Officer in Southeast Asia.  
---