Huya gives the live streaming spotlight to wildlife conservation on Global Tiger Day
The Chinese saying goes, "one mountain cannot tolerate two tigers," but today, 33 traditional handcrafted tigers will appear on the Huya live streaming platform to recognise Global Tiger Day.
---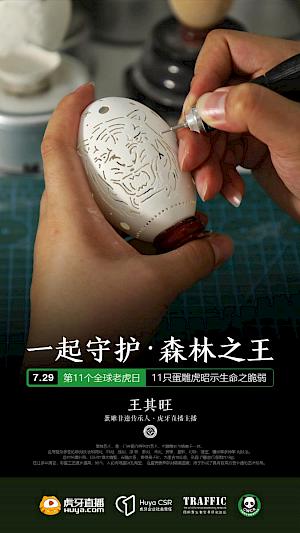 In 2010, The International Tiger Conservation Forum designated the 29th of July as Global Tiger Day to highlight the decline in global wild tiger populations. In the past 100 years, tiger populations have gone from one million strong to becoming an endangered species. Habitat loss, insufficient food, and illegal trade are the driving factors for this decline.
Currently, three subspecies, the Bali, Java, and Caspian tigers are extinct, and the South China tiger is functionally extinct. Sumatran and Malayan tigers are critically endangered, while Bengal, Siberian, and Indochinese tigers are endangered.
To mark Global Tiger Day 2021, TRAFFIC and the China Wildlife Conservation Association (CWCA)  have collaborated with Huya, a member of the Coalition To End Wildlife Trafficking Online, to launch a live streaming campaign called 'Protecting the King in the Forest.'
Artisans will demonstrate three types of traditionally crafted 'tigers' through egg decorating, paper cutting, and cloth painting. The campaign calls on people to support tiger conservation by creating these tiger-themed ornaments – made from sustainable materials –  rather than purchasing real tiger products. This will also help promote green transformation for the carving and collection industry and green collection among consumers in China.
A traditional craftsman Wang Qiwang, also a presenter on Huya, has created 11 delicately decorated tiger-themed eggs to mark each year since Global Tiger Day began. Huya's official Weibo account will distribute several of Wang Qiwang's decorated eggs to people actively participating in this campaign.
Egg decorating is known as a 'fragile art', reflecting the situation that many endangered species such as wild tigers face. But at the same time, eggs can also symbolise life. I hope that through the art of egg decorating, I can call on everyone to support wildlife conservation."
Wang Qiwang, traditional craftsman and presenter on Huya
Also invited to represent tigers through their traditional skills are Fu Zhao-e from Ningxia, renowned in China for her paper-cutting artistry and Guo Yulin, a famous cloth painter from Xi'an.
"Tiger conservation requires efforts from all different sectors. As a new member of the Coalition, Huya's engagement in raising conservation awareness among its customers will greatly contribute to protecting tigers in the wild. TRAFFIC stands ready to support more private sectors to carry out campaigns to fulfil their corporate social responsibility."
Ling XU, Director of TRAFFIC's China office
The organisers hope that through the campaign, the public will pay more attention to the situation of wild tigers worldwide and make their contribution to Protecting the King in the Forest.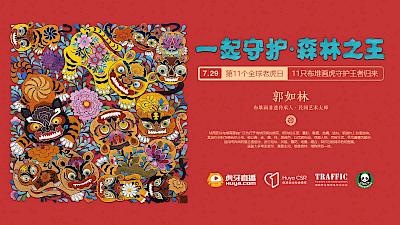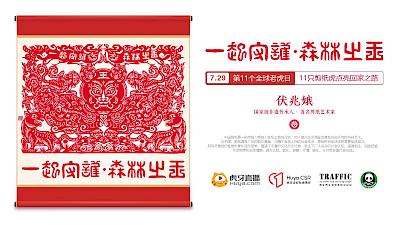 ---