Critically Endangered Hornbill gets a protection boost in Thailand.
Bangkok, Thailand, 17th March 2021 – Thailand has given the highest level of protection under the country's law to the Critically Endangered Helmeted Hornbill Rhinoplax vigil; a species heavily targeted by poachers and traffickers for its ivory-like casque.
---
The hornbill will be added to the 'Reserved Wild Animal' list under Thailand's primary wildlife law, the Wildlife Conservation and Protection Act B.E 2562 (WARPA 2019). This is a list of  rare or endangered wild animals offered the highest protection level and has the stiffest penalties for those convicted of hunting or selling them.
The decision was made on 8 March at the national wildlife conservation and protection meeting led by the Natural Resources and Environment Minister, Varawut Silpa-archa. The legal process to add the bird to this list is expected to be completed within a year.
This is a welcome move and is amongst a series of strong actions we have seen coming from Thailand. TRAFFIC commends the government for offering this beleaguered species the strongest protection possible, especially given the perilous state of hornbill populations in region and the threat from illegal trade."
TRAFFIC's Maethinee Phassaraudomsak.
The poaching and illegal trade of this species feeds a demand for luxury items such as jewellery and decorations, carved out of this hornbill's casque, which is a solid helmet shaped structure at the top of the animal's head.
A TRAFFIC study found 546 hornbill parts and products offered for sale online in Thailand during a 64 month period, spanning June 2014 to April 2019. More than 80% of the products were from the Helmeted Hornbill. Surveys by TRAFFIC and others have also found similar items in shops throughout the Mekong region.
Helmeted Hornbills were previously listed as 'protected': a separate category under Thai law that carries a jail term of at least 10 years or a fine of THB 1 million (about USD 32,700), or both for hunting or selling the animal.
Once the upgraded protection takes effect, the penalties for hunting or selling Helmeted Hornbills will rise to 15 years in prison or a fine of up to THB 1.5 million (about USD 49,000), or both, upon conviction.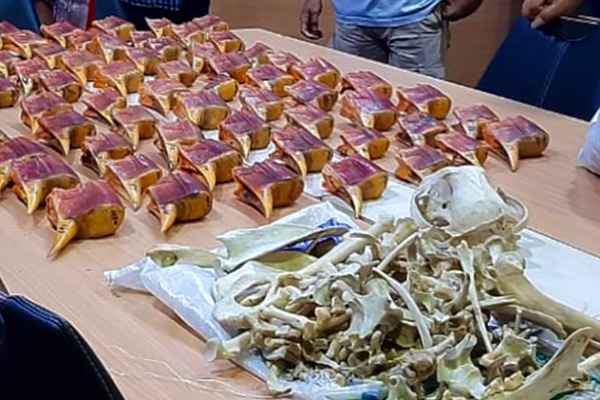 In November 2019, the Thai government passed a revised WARPA after almost 30 years, widening the scope for better regulation and control of illegal wildlife trade. This includes a brand new provision to criminalise illegal online trade, which carries a penalty of up to THB 40,000 (USD 1,300), or four years imprisonment, or both.
"We hope to see monitoring of online sales of Helmeted Hornbill parts continue and for stronger penalties to be wielded against poachers and traders targeting and selling this species," said Kanitha Krishnasamy, Director for TRAFFIC in Southeast Asia.
The Helmeted Hornbill is a large hornbill species that occupies lowland forests of  Brunei  Darussalam,  Indonesia,  Malaysia,  Myanmar, and Thailand; it is extinct in Singapore. Despite being protected across its range, the species has come under severe pressure in the last decade driven by hunting and illegal trade.
From 2010 – 2020, at least 3,697 Helmeted Hornbill casques, heads and skulls were seized in 66 incidents by enforcement agencies in six countries and territories. So far, only two known seizures have been reported for Thailand. The highest volumes seized were in China, mostly notably in 2015.
Over the past decade beginning 2010, reported seizures on Helmeted Hornbills have generally been on a downward path, with peaks recorded in 2013, 2016 and 2019.
Indonesia recorded the second highest volumes seized, totalling 1,308 casques, heads and skulls, but continuous seizures have taken place there. In November last year, Indonesian authorities seized a stunning 71 Helmeted Hornbill casques from traffickers in Aceh, in northern Sumatra.
Owing to constant hunting and habitat loss, the Helmeted Hornbill moved up in the list from Threatened to Critically Endangered in the IUCN Red List of Threatened Species in 2015, just three years after shocking levels of poaching and trafficking emerged. It is listed in Appendix I of CITES*, which prohibits all commercial international trade of this species.
In August 2018, a ten-year Conservation Strategy and Action Plan to safeguard the Helmeted Hornbill was launched. The elimination of trafficking and trade, reducing demand in current consumer markets—China, Hong Kong, and Lao People's Democratic Republic—and safeguarding the species in its range states of Brunei, Indonesia, Malaysia, Myanmar and Thailand, are among its key priorities.
---
Notes:
* CITES is the Convention on International Trade in Endangered Species of Wild Fauna and Flora
---