---
Notes:
[1] About FairWild Week
FairWild Week is an annual online initiative which celebrates the power of wild plants in our daily lives. We'll be telling success stories of how FairWild is helping protect wildlife, ecosystems and harvester communities and explaining how you as a consumer or business can be part of the solution to the threats facing wild plants. This year, FairWild Week runs from 25th June to 1st July. 

Follow the action at fairwild.org/fairwild-week or @FairWild #FairWildWeek
For editors: media and content package.

[2] Trade in CITES-listed plants
The trade in some of the plant ingredients used widely in everyday products is regulated under CITES (the Convention on International Trade in Endangered Species of Wild Fauna and Flora). The top traded wild-collected medicinal and aromatic plant species over the past decade include candelilla Euphorbia antisyphilitica (used in cosmetics), pygeum Prunus africana (an important ingredient of herbal remedies), cosmetic Aloe ferox, and agarwood (derived from Aquilaria and Gyrinops species) used in fragrances and incenses, as well as various orchids, particularly Dendrobium spp. harvested for use in traditional Asian medicine.
[3] The Wild Dozen – key plants to look out for in your products
This list provides examples of species important in trade, wild-harvested, susceptible to harvesting pressure (e.g. overcollected, vulnerable to unsustainable trade), and/or that are in supply chains problematic for social inequality of trading practices. Explore the species to look out for here: WILD DOZEN
Wild at Home is also available in German.
---
About FairWild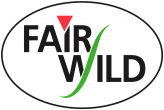 The increasing demand for wild plants—as ingredients for food, cosmetics, well-being and medicinal products—poses major ecological and social challenges. The pressure on potentially vulnerable plant species can endanger local ecosystems and the livelihoods of collectors, who often belong to the poorest social groups in the countries of origin.
As a response to these concerns, the FairWild Foundation is working with partners worldwide to improve the conservation, management and sustainable use of wild plants in trade, as well as the livelihoods of rural harvesters involved in wild collection. TRAFFIC has supported the development of the FairWild Standard, and now hosts the organization's Secretariat under a partnership agreement.