i
出版物

»

Reports

»

From Seizures to Conviction: Stronger Penalties for Serow Offences in Peninsular Malaysia
Published 19 December 2019
Poachers paying heftier price for killing serow
Petaling Jaya, Malaysia, 19th December 2019—Poachers in Malaysia are facing stiffer penalties for illegally hunting a secretive mountain goat-like animal that is in demand for its reputed power to fight everything from an itch to witchcraft. An analysis of legal action in 18 seizure incidents involving the Sumatran Serow Capricornis sumatraensis scrutinised penalties meted out by courts in Peninsular Malaysia from January 2013 to April 2019.
From Seizures to Conviction: Stronger Penalties for Serow Offences in Peninsular Malaysia
Report author(s):
Kanitha Krishnasamy, Or Oi Ching, Salman Saaban
Publication date:
December 2019
key findings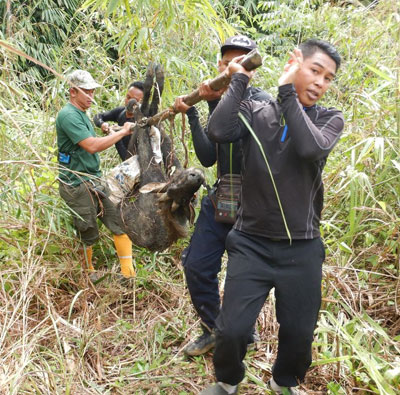 It showed that a cumulative MYR1.7 million (USD404,070) in fines and 93 months in prison time were given out by courts in four convictions in the latter part of the study period beginning 2017. 
In contrast, penalties in the five known convictions from 2005–2010 resulted in a cumulative fine of just MYR8,400 (USD2,384) and three months jail.
The highest penalties ever were for an offence in 2017 with fines totaling MYR1.2million (USD300,000) and 48 months imprisonment given to two Malaysian men convicted of illegal possession of the animal's head and other parts in a forest reserve in the state of Pahang. The court also determined the duo would have to spend a further six months in jail if they defaulted on the fines. 
"The high fines and lengthy jail terms send a clear 'hands-off' message: these are significant penalties against harming a species whose fate is always overshadowed by concern for iconic animals like tigers and elephants," said Kanitha Krishnasamy, Director for TRAFFIC in Southeast Asia. 
Although the Sumatran Serow was considered a Totally Protected Species under Peninsular Malaysia's previous wildlife law—the Protection of Wild Life Act 1972—penalties for illegal hunting or trade only reached a maximum of MYR3,000 (USD750), and or imprisonment of up to three years jail, or both. 
In contrast, the current Wildlife Conservation Act, which came into force in June 2010 mandates both fines and imprisonment for serow-related offences and provides up to MYR500,000 fines (USD125,000) and a maximum of five years jail for illegal possession of the serow or its parts. 
In total, 39 people were arrested as a result of the 18 seizure incidents and included both Malaysian and foreign nationals. 
Authors of From Seizures to Conviction—Stronger Penalties for Serow Offences in Peninsular Malaysia credit strengthened legislation and more committed prosecution efforts for the higher penalties in the serow cases.
We hope that the strong enforcement action and penalties handed out by the courts send a clear message and that Malaysians don't believe in unfounded superstitions that are compromising the survival of a unique species.
Dato' Abdul Kadir Abu Hashim, Director-General of the Department of Wildlife and National Parks Peninsular Malaysia."We strongly encourage anyone with information on wildlife crime to come forward and support the fight against illegal trade," said Abu Hashim. 
In Malaysia, despite full legal protection from hunting, serows continue to be targeted for their meat; body parts are commonly found dipped in oil, for uses ranging from traditional cures for a variety of ailments, solving family problems, boosting confidence or luck and even protection from demons. 
The Sumatran Serow is found in Peninsular Malaysia, southern Thailand and in Sumatra, Indonesia. Like other serow species in Southeast Asia, it is illegally targeted for its meat, horns, head and skin. 
In Bahasa Malaysia
Pemburu bakal dikenakan denda yang tinggi jika membunuh kambing gurun
Petaling Jaya, Malaysia, 19hb Disember 2019—Pemburu haram di Malaysia kini berdepan dengan hukuman yang lebih keras jika didapati memburu kambing gurun yang tinggi permintaannya  kerana dipercayai mampu menyembuh pelbagai penyakit daripada sengal-sengal badan hinggalah sihir.
Analisis tindakan perundangan daripada 18 rampasan melibatkan Kambing Gurun Capricornis sumatraensis telah memperinci penalti yang dikenakan oleh mahkamah di Semenanjung Malaysia dari Januari 2013 hingga April 2019.
Perincian ini telah menunjukkan jumlah keseluruhan denda sebanyak RM1.7 juta dan 93 bulan penjara telah dijatuhkan oleh mahkamah dalam empat sabitan sejak 2017.
Ini berbanding dengan denda sebayak RM8,400 dan tiga bulan penjara yang dikenakan oleh mahkamah bagi lima sabitan dari 2005-2010. 
Penalti tertinggi yang pernah direkodkan bagi satu kesalahan adalah pada tahun 2017 dengan denda berjumlah RM1.2 juta dan 48 bulan penjara dijatuhkan ke atas dua warga Malaysia yang disabitkan atas kesalahan memiliki kepala dan beberapa bahagian badan haiwan ini di dalam hutan simpan negeri Pahang. Mahkamah juga menambah enam bulan tempoh penjara ke atas dua pesalah ini jika mereka gagal membayar denda. 
"Denda yang tinggi dan tempoh penjara yang panjang menunjukkan amaran yang keras. Penalti sebegini juga amat penting untuk melindungi kambing gurun yang seringkali dilupakan kerana ia tidak dikenali sepertimana harimau dan gajah. - Kanitha Krishnasamy, Pengarah TRAFFIC Asia Tenggara.
Walaupun sebelum ini kambing gurun dilindungi sepenuhnya di bawah undang-undang hidupan liar Semenanjung Malaysia yang lama –Akta Perlindungan Hiduan Liar 1972– penalti maksimum untuk pemburuan haram atau perdagangan hanyalah RM3,000, atau penjara sehingga tiga tahun, atau kedua-duanya.
Dalam pada itu, Akta Perlindungan Hidupan Liar terkini yang berkuatkuasa pada bulan Jun 2010 membenarkan hukuman denda sehingga RM500,000 dan maksimum lima tahun penjara bagi memiliki kambing gurun atau bahagian badannya.
Secara keseluruhannya, 39 orang telah ditahan daripada 19 rampasan yang melibatkan warga Malaysia serta warga asing.  
Menurut pengarang Sabitan Lebih Tegas Untuk Kesalahan Berkaitan Kambing Gurun di Semenanjung Malaysia undang-undang yang lebih kuat dan usaha pendakwaan yang lebih komited adalah sebab utama penalti bagi kes kambing gurun kini lebih tinggi
"Kami berharap tindakan penguatkuasaan dan penalti yang diberikan oleh mahkamah telah menyampaikan mesej yang jelas dan rakyat Malaysia tidak berpegang kepada kepercayaan karut yang boleh menggugat kelangsungan hidup spesis unik ini," ujar Dato' Abdul Kadir Abu Hashim, Ketua Pengarah Jabatan Perlindungan Hidupan Liar dan Taman Negara Malaysia. "Kami menyeru sesiapa sahaja yang mempunyai maklumat mengenai jenayah hidupan liar untuk tampil dan menyokong usaha membanteras jenayah pemerdagangan hidupan liar," ujarnya.
Di Malaysia, walaupun dilindungi sepenuhnya di bawah undang-undang, kambing gurun masih diburu untuk daging dan bahagian badannya. Anggota badan kambing gurun biasanya direndam dalam minyak untuk perubatan tradisional yang dipercayai mampu menyembuhkan pelbagai penyakit, memulihkan  masalah keluarga, meningkat keyakinan atau nasib sehinggalah perlindungan daripada gangguan syaitan.
Kambing Gurun boleh ditemui di Semenanjung Malaysia, selatan Thailand dan Sumatera, Indonesia. Seperti spesis kambing gurun yang lain di Asia Tenggara, daging, tanduk, kepala dan kulitnya diburu secara haram.
18 serow seizures
January 2003–April 2019
MYR1.7 million
Total fines since 2017
93 months
Total jail time served
for more information:
Kanitha Krishnasamy Director - Southeast Asia