i
Published 25 September 2015
Tens of thousands of birds illegally sold on the streets of Jakarta
Jakarta, Indonesia, 25th September 2015—A comprehensive survey of Jakarta's sprawling bird markets shows the daunting scale of the illegal trade in native birds and raises the alarm for Indonesia, home to the highest number of threatened bird species in Asia.
In the Market for Extinction: An inventory of Jakarta's bird markets
Report author(s):
Serene C.L. Chng, James A. Eaton, Kanitha Krishnasamy, Chris R. Shepherd, Vincent Nijman
Publication date:
September 2015
key findings
In the Market for Extinction: An inventory of Jakarta's bird markets released today by TRAFFIC found over 19,000 birds representing 206 species for sale in the Pramuka, Jatinegara and Barito markets over a three-day period. 
The vast majority of the birds counted – 98 per cent – were native to Indonesia and harvested outside of the national harvest quota system or in direct violation of laws protecting select species. Most were considered to be wild-caught.
While Indonesia's law allows trade in unprotected bird species, it has put in place a 'no harvest' quota for native birds since 2002. This makes capture or trade of any wild birds in Indonesia illegal regardless of whether the species is protected or not. The only exception to this rule is for the capture of small quantities of a few species for breeding stock in commercial breeding operations.
Researchers found that a fifth of the birds observed were endemic to Indonesia – species found nowhere else on earth. Eight native species for sale are assessed as globally threatened on the IUCN Red List: the Bali Myna and Black-winged Myna (both Critically Endangered), Rufous-fronted Laughingthrush (Endangered), Java Sparrow, Sumatran Laughingthrush, Chattering Lory, Straw-headed Bulbul and Javan Coucal (all Vulnerable).
The Pramuka market, the largest bird market in the country, had over 10 times more birds than Barito and Jatinegara markets.
This is the first time a full inventory of the city's three largest bird markets has been carried out at once. Earlier surveys in Indonesia's bird markets have largely focused on selected species, only partially uncovering the scale of the bird trade in the country's capital. 
Bird-keeping has cultural significance in Indonesia, and the number of birds found in these markets reflects that. Songbird competitions have also added to the demand of certain prized birds, and increased pressure on these species in the wild. As a result, a number of species are in real danger of being wiped out by the trade. 
This is catastrophic news for Indonesia's birds. Given the massive volumes recorded in just three markets in three days, the overall impact of hunting and trade on wild bird populations must be immense
Serene Chng, co-author and TRAFFIC Programme Officer in Southeast Asia
The study found that laws for native species generally afforded good protection, but monitoring and enforcement in the markets were lacking. Accordingly, TRAFFIC recommends that prosecution of traders found openly selling protected species is made an enforcement priority.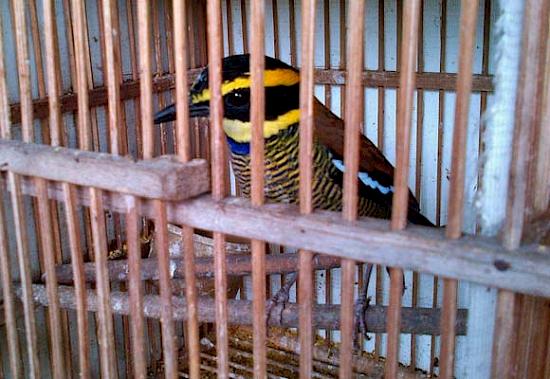 "As long as these markets exits in their current form, illegal trade will continue to undermine bird conservation in Indonesia. We urge the new Indonesian government, which is already taking steps to strengthen conservation efforts, to act decisively to address this threat," said Dr Chris R. Shepherd, Regional Director for TRAFFIC in Southeast Asia.  "It is imperative that the illegal trade in these markets be shut down."
Considering the scale and breadth of trade TRAFFIC also called for a review and update of Indonesia's laws to include some native species currently not on the protected list, and to cover non-native species commonly found in trade.  
Together with long-term conservation strategies to reduce the demand for wild birds in Indonesia, the study also underlined the need to ensure good oversight and regulation of commercial captive breeding operations.
The findings of this study will underpin discussions at the Songbird Crisis Summit in Singapore which begins tomorrow.  The Summit is a gathering of experts to formalize a strategic action plan to enhance conservation and enforcement efforts for threatened species of birds across Asia.
bahasa indonesia
Puluhan ribu burung dijual secara ilegal di Jakarta
Jakarta, Indonesia, 25 September 2015—Hasil studi komprehensif terhadap pasar burung di Indonesia menunjukkan tingginya angka perdagangan illegal burung khas Indonesia. Ini adalah alarm peringatan penting bagi Indonesia yang memiliki jumlah burung terancam punah terbanyak di wilayah Asia.
Dalam laporan "Market for Extinction : An inventory of Jakarta's bird markets", yang dikeluarkan pada 25 September 2015 oleh TRAFFIC, dalam jangka waktu 3 hari telah ditemukan lebih dari 19.000 ekor burung yang berasal dari 206 jenis yang dijual di pasar burung Pramuka, Jatinegara dan Barito. 
Mayoritas dari burung yang tercatat, yaitu 98% dari seluruh burung yang diamati, adalah burung khas Indonesia yang diduga ditangkap langsung dari alam dalam jumlah yang melebihi kuota yang ditetapkan pemerintah, atau burung yang ditangkap dengan melanggar peraturan perlindungan terhadap jenis burung tertentu. 
Walaupun peraturan hukum di Indonesia memperbolehkan adanya perdagangan satwa yang tidak dilindungi, namun pemerintah telah menetapkan kuota nol (atau tidak boleh ditangkap sama sekali dari alam) untuk burung-burung khas Indonesia sejak tahun 2002. Hal ini berarti bahwa penangkapan atau perdagangan burung khas Indonesia, baik yang dilindungi maupun yang tidak, adalah sesuatu hal yang melanggar hukum. Pengecualian terhadap aturan ini adalah jika burung ditangkap untuk kebutuhan pengembangbiakan yang bersifat komersil, itupun dibatasi dalam jumlah yang sangat kecil. 
Penelitian ini menemukan bahwa seperlima dari burung yang diamati diperjualbelikan adalah endemik Indonesia – jenis khas Indonesia yang tidak ditemukan di negara lain. Delapan diantaranya telah diakui secara global sebagai jenis yang terancam punah dan masuk ke dalam daftar merah IUCN (IUCN red list) diantaranya yaitu: Jalak Bali dan Jalak Putih (kategori critically endangered atau kritis), poksay kuda (kategori endangered atau genting), Gelatik Jawa, Poksay Sumatra, Nuri bayan, Cucakrawa, dan Bubut Jawa (semuanya kategori vulnerable, atau rentan).
Pasar burung Pramuka, pasar burung terbesar di Indonesia, menjual jumlah burung hingga 10 kali lipat lebih banyak dari pasar burung Barito atau Jatinegara. 
Ini adalah pertama kalinya studi inventarisasi penuh dilakukan di tiga pasar burung terbesar di Jakarta pada waktu yang bersamaan. Inventarisasi yang selama ini dilakukan biasanya berpusat pada jenis tertentu saja, sehingga hanya sebagian dari skala perdagangan yang terjadi di Ibukota dapat diungkap. 
Memelihara burung memiliki makna budaya di Indonesia, dan jumlah burung yang dijual di pasar burung mencerminkan hal tersebut. Kompetisi kicauan burung meningkatkan permintaan terhadap burung jenis tertentu, yang kemudian menambah tekanan ancaman perburuan jenis tersebut di alam. Akibatnya, burung-burung tertentu berada di bawah ancaman kepunahan yang diakibatkan oleh bisnis perdagangan burung.
"Ini merupakan bencana untuk burung-burung di Indonesia. Melihat besarnya volume burung terancam punah yang berhasil dicatat selama 3 hari di pasar-pasar burung tersebut, kami menduga terdapat dampak perburuan dan perdagangan yang sangat besat terhadap populasi burung Indonesia di alam liar," ucap Serene Chng, co-author dan Programme Officer di TRAFFIC Asia Tenggara.
Studi ini juga menemukan bahwa undang-undang konservasi pada umumnya memberikan perlindungan yang baik terhadap burung yang dilindungi, tetapi pemantauan dan penegakan hukum di Indonesia masih lemah. Sehubungan dengan hal ini, TRAFFIC merekomendasikan bahwa tuntutan hukum kepada pedagang yang tertangkap menjual spesies burung yang dilindungi menjadi sebuah prioritas penegakan hukum.
"Selama pasar burung masih hidup didalam wujudnya yang sekarang, perdagangan illegal akan terus mengancam usaha konservasi burung di Indonesia. Kami mendesak pemerintahan baru Indonesia, yang telah melakukan langkah-langkah untuk menguatkan usaha-usaha konservasi, untuk bertindak lebih lanjut dan lebih tegas dalam mengatasi ancaman ini," ucap Dr Chris R. Shepard, Direktur Regional untuk TRAFFIC Asia Tenggara. "Sangatlah penting bahwa perdagangan illegal yang dilakukan di pasar-pasar burung ini ditutup."
Mempertimbangkan skala dan dalamnya perdagangan, TRAFFIC juga menyarankan dilakukannya kaji ulang dan pembaruan undang-undang konservasi Indonesia dengan memasukkan beberapa spesies khas Indonesia yang sebelumnya tidak berada di dalam daftar jenis yang dilindungi, serta untuk memasukkan beberapa jenis burung yang bukan khas Indonesia tetapi umum diperdagangkan di pasar.
Bersama dengan strategi konservasi jangka panjang untuk mengurangi permintaan burung liar di Indonesia, studi ini juga menggaris bawahi kebutuhan untuk adanya pengawasan yang baik dan regulasi yang mengatur kegiatan pengembangbiakan burung yang bersifat komersil.
Hasil dari studi ini akan menjadi dasar diskusi dalam Songbird Crisis Summit yang diselenggarakan di Singapura pada 26 September 2015. Konferensi ini mengumpulkan para ahli konservasi burung dalam rangka memformulasikan rencana aksi strategis untuk memperkuat usaha konservasi dan penegakan hukum demi melindungi jenis burung yang terancam punah di Asia.
over 19,000
birds representing 206 species for sale in markets over a three days
98%
were native to Indonesia and harvested outside of national quotas or in direct violation of laws
Pramuka market
had over 10 times more birds than Barito and Jatinegara
for more information:
Elizabeth John Senior Communications Officer, TRAFFIC
+60 3 7880 3940
Enable JavaScript to view protected content.