i
Published 21 December 2017
Illegal trade hammering Critically Endangered Sunda Pangolin stronghold
Jakarta, Indonesia, 21st December 2017—Indonesia, one of the last strongholds of the Sunda Pangolin, has lost up to 10,000 pangolins a year to illegal trade despite significant enforcement success, finds a new TRAFFIC study.
Scaly Nexus: Mapping Indonesian pangolin seizures
Report author(s):
Lalita Gomez, Boyd T.C. Leupen, Kanitha Krishnasamy and Sarah Heinrich
Publication date:
December 2017
key findings
In Scaly Nexus: Mapping Indonesian pangolin seizures, TRAFFIC researchers found an equivalent of 35,632 pangolins had been seized in 111 enforcement cases over the six-year period from 2010 to 2015. 
The volume of pangolins and parts seized annually varied greatly throughout the study period, ranging from an equivalent of 2,436 to 10,857 pangolins per year. 
Data showed that Indonesia functioned mainly as a source country for pangolins, with domestic seizures accounting for 83% of the 111 cases studied. Authorities also identified or arrested a minimum of 127 suspects linked to those cases.
All trade in wild caught Sunda Pangolin Manis javanica specimens is prohibited under the law in Indonesia which is home only to this species of pangolin. 
This is a reminder that Indonesia's wildlife is being drained on an industrial scale to feed the global illegal trade.
Kanitha Krishnasamy, Acting Regional Director for TRAFFIC in Southeast Asia and a co-author of the report"While the relatively high number of seizures and arrests speaks to the Indonesian government's commitment in tackling the problem, it also highlights the relentless poaching pressure in one of the most biodiverse countries in the world." 
The high pressure on Sunda Pangolins was evident in Indonesia's placement among the top 10 countries involved in international illegal pangolin trade last week with the release of a separate TRAFFIC study on global pangolin seizures during the period 2010–2015. The finding was in relation to the number of seizure incidents and quantities Indonesia was implicated in.  
Further, the massive seizures have continued outside this study period, with at least 21 seizures in Indonesia since 2016, including a 2.5 tonne seizure of pangolin meat in October 2016.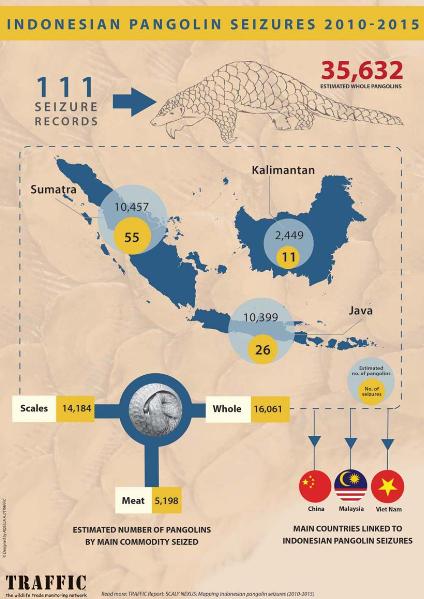 "The Sunda Pangolin is Critically Endangered and therefore considered to be facing an extremely high risk of extinction in the wild—it simply cannot take this level of persecution," said Lalita Gomez, Programme Officer and co-author of the report. 
Sumatra was found to be a hotspot for the trade in this study, with the island topping the list of places recording the most seizures.  This island also served as a key link in the illegal pangolin trade between Indonesia, Malaysia and Singapore, with the city of Medan in North Sumatra appearing to act as a major collection site before export.
China and Viet Nam were implicated as destination countries, while Malaysia was reported to be the most prominent transit country in the movement of pangolins from Indonesia. 
Only one record was found implicating Indonesia as a potential transit country, where a shipment of pangolin scales originating from Cameroon was seized in Jakarta in January 2015.
Considering the history of large-scale pangolin seizures, and the pangolin's average seven-year generation span, its populations are likely to be in decline as a result of the trade, the authors said.
The study recommended enhanced monitoring, investigation, stronger multi-agency co-operation as well as greater awareness for prosecutors and the judiciary as part of the efforts necessary to address the trafficking threat.
bahasa indonesia
Perdagangan ilegal meneror habitat Trenggiling Sunda yang terancam punah
Jakarta, Indonesia, 21 Desember 2017 — Indonesia sebagai salah satu habitat terakhir Trenggiling Sunda, telah kehilangan hingga 10.000 ekor trenggiling setiap tahunnya akibat perdagangan ilegal. Meskipun secara signifikan telah banyak penindakan hukum yang berhasil dilakukan, ungkap penelitian TRAFFIC terbaru.
Dalam laporan penelitian Pemetaan penyitaan trenggiling di Indonesia, para peneliti TRAFFIC menemukan sebanyak 35.632 ekor trenggiling yang telah disita pada 111 kasus penegakan hukum dalam kurun waktu enam tahun dari 2010 - 2015.
Jumlah trenggiling dan bagian tubuh yang disita sangat bervariasi setiap tahunnya selama periode penelitian, antara 2436 sampai 10.857 ekor trenggiling per tahun.
Data menunjukan bahwa Indonesia mempunyai fungsi utama sebagai negara pemasok trenggiling, dengan penyitaan domestik yang mencapai 83% dari 111 kasus yang dipelajari. Pihak yang berwenang juga mengidentifikasi atau menangkap setidaknya 127 tersangka yang terkait dalam kasus-kasus tersebut.
Segala bentuk perdagangan Trenggiling Sunda (Manis javanica) yang merupakan hasil tangkapan liar, dilarang di bawah hukum Indonesia. Trenggiling Sunda adalah satu-satunya jenis trenggiling yang ditemukan di Indonesia.
"Hal ini merupakan peringatan bahwa satwa Indonesia diburu dalam skala komersial untuk memenuhi permintaan global perdagangan ilegal," ujar Kanitha Krishnasamy, Direktur Pelaksana Regional untuk TRAFFIC Asia Tenggara dan salah satu penulis pada laporan penelitian.
"Relatif tingginya angka penyitaan dan penangkapan menunjukkan komitmen pemerintah Indonesia dalam menanggulangi masalah ini, hal ini juga memperlihatkan tiada hentinya tekanan perburuan ilegal di salah satu negara dengan keanekaragaman hayati terbanyak di dunia."
Tingginya tekanan pada spesies Trenggiling Sunda sangatlah jelas pada penempatan Indonesia di 10 negara teratas yang terlibat dalam perdagangan internasional trenggiling ilegal minggu lalu, bersamaan dengan dipublikasikannya laporan TRAFFIC tentang penyitaan global trenggiling di antara 2010 - 2015. Laporan penelitian tersebut berhubungan dengan jumlah insiden penyitaan dan besarnya kuantitas yang melibatkan Indonesia.
Lebih lanjut, penangkapan besar terus terjadi di luar periode penelitian, dengan setidaknya 21 kasus penyitaan di Indonesia sejak 2016, termasuk penyitaan 2,5 ton daging trenggiling pada Oktober 2016. 
"Trenggiling Sunda termasuk ke dalam kategori kritis dan oleh karena itu dianggap sangat beresiko menghadapi kepunahan di alam – jelas trenggiling tidak bisa diperlakukan kejam seperti ini," ujar Lalita Gomez, Petugas Program dan salah satu penulis laporan penelitian ini.
Sumatra ditemukan menjadi titik panas perdagangan dalam penelitian ini, menduduki peringkat teratas dalam daftar tempat yang mencatat penyitaan terbanyak. Sumatra juga berperan sebagai penghubung penting dalam perdagangan trenggiling ilegal antara Indonesia, Malaysia, dan Singapura, dengan kota Medan di Sumatra terlihat berperan sebagai tempat pengepulan utama sebelum di ekspor.
Tiongkok dan Vietnam terlibat sebagai negara tujuan, sedangkan Malaysia dilaporkan menjadi negara transit terpenting dalam pengiriman trenggiling asal Indonesia.
Hanya satu catatan yang menyebutkan Indonesia sebagai sebuah negara transit potensial, di mana pengiriman sisik trenggiling asal Kamerun telah disita di Jakarta pada bulan Januari 2015.
Melihat banyaknya penyitaan trenggiling dalam skala besar, dan rentang generasi rata-rata trenggiling selama tujuh tahun, populasi trenggiling cenderung mengalami penurunan akibat perdagangan ilegal, ujar para peneliti.
Penelitian ini merekomendasikan peningkatan pengawasan, investigasi, dan kerjasama antar-instansi yang lebih kuat, serta kesadaran tinggi dari kejaksaan dan pengadilan sebagai bagian dari upaya yang diperlukan untuk menangani ancaman perdagangan trenggiling ilegal.
Up to 10,000
Sunda pangolins are lost annually to illegal trade
83%
of the 111 seizures studied were made domestically
Indonesia
functions mostly as a source country for trade in pangolins
for more information:
Elizabeth John Senior Communications Officer, TRAFFIC
+60 3 7880 3940
Enable JavaScript to view protected content.
Abbie Pearce TRAFFIC Media Support Manager
+447921309716
Enable JavaScript to view protected content.