WWF and TRAFFIC help timber companies navigate a shifting legal landscape
Kuala Lumpur, Malaysia, 26th July 2010—WWF's Global Forest & Trade Network (GFTN) and TRAFFIC, with support from the USAID's Responsible Asia Forestry and Trade programme (RAFT), will meet suppliers of forestry products from Malaysia this week to explain the implications of laws such as the amended Lacey Act.
---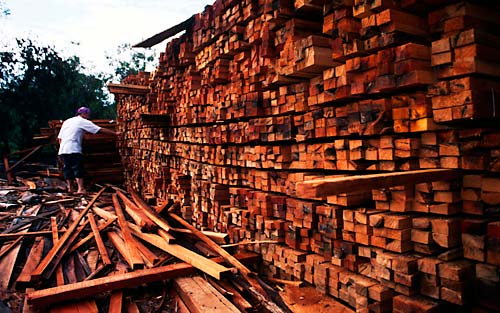 The Lacey Act is the first law of its kind to prohibit the import, sale or trade of illegally-harvested wood and wood products into the United States. 
Companies importing timber products to the US will need suppliers, such as mills and manufacturers from across South-East Asia, to understand their role in ensuring compliance with the revised regulations. 
To help them, WWF's GFTN and TRAFFIC are holding a series of Legality Training Workshops across Southeast Asia this July, August and September. 
The workshops will bring together representatives from government, industry and the environmental community, to cover a range of topics including information on the amended Lacey Act, what US importers need from suppliers in Malaysia, how to help US customers demonstrate due care, relevant legislation in Malaysia, information on legal and responsible trade and training materials for staff involved in the timber trade. 
The US is not the only major timber importer introducing legislation to tackle the illegal timber trade: the European parliament recently voted to pass new a law that will require companies importing and selling timber in the EU to demonstrate they have exercised "due diligence" to ensure their timber has been felled legally. 
The EU is also currently negotiating bilateral voluntary procurement agreements (VPAs), which focus on legal timber sourcing from producing countries. 
"The amended U.S. Lacey Act is an important tool in helping Malaysia enforce its own laws governing trade in timber and timber products," said Brian McFeeters, Acting Deputy Chief of Mission at the U.S. Embassy. 
"It is imperative for companies in Malaysia to understand the law, what's required from them to help their customers in the U.S. demonstrate compliance and how they can play a part in a larger international movement to combat trade in illegal wood."
As new product declarations under the Lacey Act are enforced from September, a growing number of US-based forest products importers will seek assurances from their suppliers that the products they source have been legally produced. This means they must be able to demonstrate the timber has been harvested, possessed, transported, sold or exported without breaking any relevant underlying laws in the country where the tree was grown, even if it was processed in another country.
"If you are exporting to the U.S. market, you need to understand how the Lacey Act impacts your customers in the U.S., who will face large fines, confiscation and imprisonment if they cannot demonstrate that the wood used in making the products they import is legal," said George White, Head of WWF's Global Forest & Trade Network (GFTN). 
"With a long-standing history in advancing responsible forestry and trade, the GFTN is well placed to help Malaysian suppliers understand this groundbreaking law, learn specific steps to demonstrate legal sourcing and most importantly, source responsibly by purchasing certified timber."
"Illegal logging and timber trade not only undermine conservation, but also result in reduced profitability of legal trade, loss of foreign revenue and currency exchange, uncollected forest-related taxes and depleted forest resources and services," said Chen Hin Keong, TRAFFIC's Global Forest Trade Programme Leader. 
"As international legislation increases to combat trade in illegal timber, it will be imperative for all links in the supply chain to show that they have taken the appropriate measures to keep illegal timber out the global marketplace."
---