World's rarest tortoise loses face value
Singapore, 16th December 2013 – Conservation organizations fighting to save one of the world's most threatened tortoises from poachers have resorted to a drastic measure—engraving identification codes onto the animals' shells to reduce their black market value.
---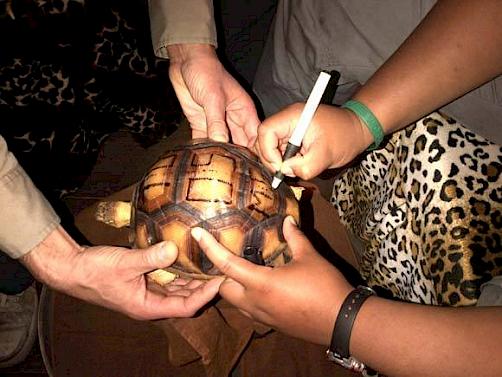 Although fully protected, Ploughshare Tortoises are prized for their beautiful high domed shells, but are being pushed closer to the brink of extinction due to high demand as unique and exotic pets. Engraving a tortoise's shell makes it less desirable to traffickers and easier for enforcement agencies to trace.
Found only in north-western Madagascar, the tortoise is Critically Endangered and only an estimated 400 adults remain in the wild. Numbers have been devastated through illegal collection and export to meet the international demand for the pet trade, especially in South-East Asia, where they are sold in markets particularly in Indonesia, Malaysia and Thailand. 
In March, two smugglers were arrested with 52 Ploughshare Tortoises in suitcases while attempting to enter Thailand, where traders redistribute the animals to dealers locally and abroad. This was the largest ever seizure of Ploughshare Tortoises in South-East Asia. One of the smugglers, a Malagasy woman, was jailed, while the other, a Thai man, was released on bail.
This case exemplifies the audacity of smugglers, the urgency of the situation and the need for enforcement agencies to take the illegal trade in this species seriously. Based on seizures reported in the media, at least 86 Ploughshare Tortoises have been seized since 2010. Over 60% of these seizures occurred in Thailand while remaining seizures took place in Madagascar and Malaysia; with at least one of the shipments destined for Indonesia.  
Four organisations – Wildlife Reserves Singapore, TRAFFIC, Durrell Wildlife Conservation Trust and Turtle Conservancy – joined forces to hold a "Tattoo the Tortoise" event on 16th December at Singapore Zoo to raise awareness of the plight of the Ploughshare and to build support to fight trafficking in the species. 
Singapore Zoo currently houses two Ploughshare Tortoises which were confiscated by the Agri-Food and Veterinary Authority of Singapore in 2009. The pair will be used to establish an "assurance colony" in Singapore. The top shell of each tortoise was engraved during this event – a first for South-East Asia. 
The event included presentations by experts working on the conservation of these tortoises and an exhibition open to the public. These activities provide an opportunity for the public, governments and other relevant bodies to learn about the dire situation these animals face, and what they can do to save the Ploughshare Tortoises.

---