Wildlife Reserves Singapore and TRAFFIC launch awareness initiative to battle illegal wildlife trade in South-East Asia
Singapore, 7th March 2015—Wildlife Reserves Singapore (WRS) and TRAFFIC today launched a year-long awareness raising initiative, calling on the public to consider the impact of their purchases on wildlife and help stop the demand that drives illegal trade.
---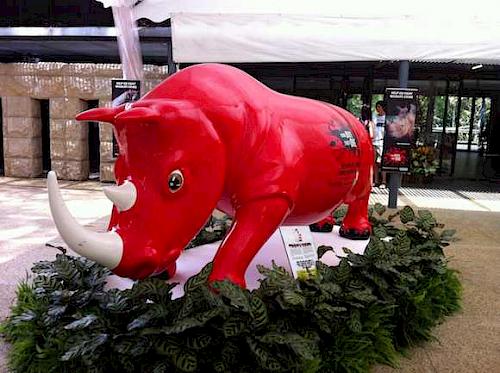 Reaching out to the millions of local and international visitors to WRS facilities every year, the venture will see interpretive signs placed around three parks to educate the public about the animals they see and how these are affected by poaching and illegal trade to meet consumer demand for exotic pets, fashion, food, medicine and decorative products.
Ms Claire Chiang, Chairman, Wildlife Reserves Singapore, said: "Illegal wildlife trade often goes unnoticed in our day to day living, but can have devastating consequences, pushing many animal species to the brink of extinction. It is imperative that people understand how the diverse markets for animal parts can severely threaten the survival of these species. We hope that by presenting the facts to our visitors, people will be more conscious and do their part for the conservation of endangered wildlife."
The initiative will also encourage the public to recognize instances of wildlife crime, and appeal to them to report such cases to local authorities.
To reach out to children, Singapore Zoo is introducing a Ranger Ooz Education Trail from 14–22 March 2015 when all children entering WRS parks will be given a ranger awareness kit to take home. 
In conjunction with the launch of the WRS "You Buy They Die" campaign, WRS and TRAFFIC also signed a Memorandum of Understanding to strengthen and formalise their partnership. 
"Fighting wildlife crime is everyone's responsibility and we're glad to see organisations like WRS take up the call," said Dr Chris R. Shepherd, Regional Director for TRAFFIC in Southeast Asia.
"By investing funds and using their powerful reach to galvanize public support, WRS are giving the effort an immense boost. The key message to the public really is that everyone has a role to play in bringing about an end to illegal wildlife trade."
WRS and TRAFFIC have previously collaborated on ad hoc projects to curb wildlife crime, such as in-depth research on illegal wildlife trade and helping regional authorities in wildlife conservation efforts through the provision of identification guides and training.
Committed to fighting illegal and unsustainable wildlife trade and ensuring the conservation of threatened wildlife, WRS is Singapore's designated rescued wildlife centre for live confiscated wildlife. It has received and managed confiscated wildlife from the Agri-food and Veterinary Association (AVA) for over two decades.
---