Wildlife Connection: Raising awareness of wildlife crime in Southeast Asia
Petaling Jaya, Malaysia, 7th February 2017—the latest issue of Wildlife Connection, TRAFFIC's newsletter aimed at raising awareness of wildlife crime in Southeast Asia has been launched.
---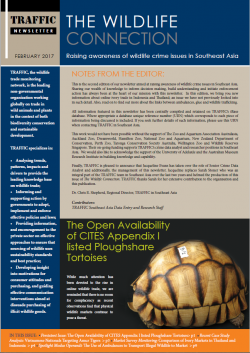 Targetting wildlife enforcement officials in the region, the publication highlights the role of Southeast Asia as a market for wildlife contraband, a transit hub for wildlife trafficking and a driver of demand that fuels poaching, providing insights into new and emerging issues within the wildlife crime sector.
The latest issue includes an investigation comparing the use of social networking platforms as a means of selling ivory in Thailand and Indonesia, which reveals not just the scale of online trade but also the growing move towards using social media as a trading avenue over more conventional commercial websites.
Also highlighted is the ongoing open trade in the Ploughshare Tortoise, a Malagasy species whose international trade is banned under the Convention on International Trade in Endangered Species of Wild Fauna and Flora (CITES).
The newsletter also draws attention to the emergence of a Vietnamese sub-culture of wealthy individuals flaunting their newly acquired affluence by consuming powdered Tiger bone in alcohol.
The Wildlife Connection: Raising awareness of wildife crime issues in Southeast Asia
---