Vietnamese lawmakers rally for stricter measures against wildlife crime in TV panel special
HANOI, 11 September, 2023 – Today, the National Assembly Television Channel aired a special TV panel discussion featuring prominent Vietnamese legislators and conservation experts. The purpose of this televised dialogue was to explore comprehensive strategies aimed at curbing the surge in transnational wildlife crime within Viet Nam. 
---
Despite vigorous enforcement and legal actions, Viet Nam, renowned for its extraordinary biodiversity, continues to grapple with the loss of habitats and species. 
Of particular concern is the plight of the Indochinese tiger, Panthera tigris corbetti, whose population dwindled to a mere five individuals in 2015 due to unrelenting demand for tiger products and the persistent illegal trade. 
To address this persistent challenge, TRAFFIC has collaborated with the National Parliament through the Training Centre for Elected Representatives. This partnership seeks to leverage the influential role of lawmakers in catalysing transformative change2.
Today's talk show aimed to foster a more robust engagement and determination of Government individuals and the public in stamping out wildlife crime.  
 Invited as an expert on wildlife conservation, Tejpal Singh, TRAFFIC Regional Director for Asia, shared the lessons learned from international practices that could enhance Viet Nam's performance in tackling the issue.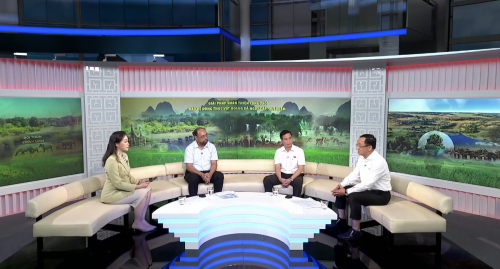 He also emphasised the importance of TRAFFIC's 2030 strategy, especially the component on improving the effectiveness of national policies and regulations, which aligns with and supports the Southeast Asian countries to strengthen their conservation efforts.    
 A short report providing in-depth evaluations from various wildlife specialists from the Government and NGO sectors introduced the discussions. These experts unanimously highlighted Viet Nam's prominent role in the illegal trade of several iconic species. 
 For instance, in TRAFFIC's most recent analysis of global tiger seizures, Viet Nam stood out for its role in tiger trafficking, with a staggering 185% increase in the number of confiscated tigers from 2018 to 2021 compared to the previous four years. 
 A guest of the show, Mr Nguyen Manh Cuong, Vice Chairman of the Legislative Committee of the National Assembly, said: "I'm involved in wildlife conservation and have an eye on how various stakeholders in the country are addressing it. Law enforcement requires stronger collaboration and data sharing amongst enforcing agencies such as customs and environment police. Today's Talk show gives me a great opportunity to call for all involved to make wildlife conservation a priority and show serious commitment in carrying out their work."  
 The panel of guest speakers examined the existing gaps in overlapping legal regulations, weak law enforcement, inconsistent communication strategies, and the lack of international collaboration in wildlife conservation. 
 
They urged relevant agencies to bolster law enforcement, particularly by investigating and apprehending the "kingpins" of criminal networks to disrupt the chain significantly. The critical necessity of enhancing cross-border intelligence sharing among Asian countries and the importance of seizures leading to arrests and successful prosecutions were also emphasized. 
The discussion recommended the adoption of TWIX (Trade in Wildlife Information Exchange), an online platform developed and operated by TRAFFIC, which connects European and African officials, enabling rapid information and expertise sharing. This platform's implementation is encouraged for Asian countries. 
Southeast Asia is a vital region, and we will continue to invest here. TRAFFIC commits to continuing analysis of legal and illegal trade data to help inform the private sector and government decisions and policies, such as strengthening legislation and introducing trade controls."
Tejpal Singh, TRAFFIC Regional Director for Asia.
 The talk show ended with participants expressing unwavering determination to advocate for comprehensive measures against wildlife crime. These measures include enhancing the legal framework, strengthening law enforcement, and organizing impactful cross-border campaigns to reduce demand through social and behavioural change approaches. 
Watch the complete TV panel on NA Television's official website: Policy dialogue: National Assembly members step up efforts to fight wildlife trafficking (quochoitv.vn)
---
Notes:
The talk show was recorded and will be broadcasted on several Government channels. 
The activity is part of the project "Social Marketing to reduce demand for tiger products in Viet Nam", funded by the United Kingdom Government (UKaid) through the Illegal Wildlife Trade Challenge Fund (IWT Challenge Fund) with implementation support from the TRAFFIC International Vietnam Office (TRAFFIC).  
 
---
About IWTCF
The Illegal Wildlife Trade Challenge Fund (IWTCF) is a UK government competitive grants scheme aimed at eradicating the illegal trade in wildlife. The UK is committed to protecting endangered animals and plants from poaching and illegal trade. The IWTCF provides funding for practical projects around the world that help eradicate illegal wildlife trade and, in doing so, reduce poverty.