UN Security Council targets poaching and wildlife trade with DRC sanctions
UN, 30th January 2014—The United Nations Security Council took a critical step today in tackling elephant poaching and illicit ivory trade by addressing the link between instability in the Democratic Republic of Congo and wildlife trafficking.
---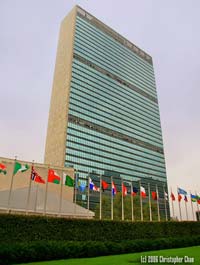 In renewing the DRC sanctions regime, the resolution targets individuals and entities illegally supporting armed groups through the illicit trade of natural resources, including wildlife and wildlife products, such as elephant ivory.
Over 20,000 elephants are killed each year for their ivory tusks, with much of the killing occurring in conflict zones in Central Africa, including the Democratic Republic of the Congo and the Central African Republic.
"Individuals involved in poaching and trafficking of wildlife are now singled out for sanctions where the proceeds of their activities have been used to finance conflict," said Wendy Elliott, species programme manager at WWF. 
"This is a huge step forward for reducing human suffering, improving peace and security and strengthening wildlife conservation."
On Tuesday, the Council further underscored the link between wildlife crime and conflict through the adoption of a separate sanctions regime for the Central African Republic. That resolution also targets individuals involved in the illicit exploitation of wildlife and wildlife products.
"The DRC and CAR resolutions are critical. They illustrate the high priority that the Security Council places on ending the human pain and regional instability that accompany these environmental crimes," said Elliott.
With mounting evidence that the proceeds of wildlife poaching and trafficking are being used to finance armed groups, the resolutions on DRC and CAR designate wildlife trade as a factor to be considered when targeting future sanctions.
"These Security Council resolutions include recognition of the destabilizing influence of wildlife poaching operations on national security. There can be no clearer statement of the seriousness of wildlife crime," said Roland Melisch, TRAFFIC's Programme Director for Africa and Europe. 
The resolutions come in advance of other global efforts to end illicit wildlife trafficking, including a high-level meeting to be hosted by the UK government in February. 
Earlier today, Togo revealed a further 2.1 tonnes of elephant ivory had been discovered, linked to a case earlier in the week when 1.7 tonnes of ivory were seized and three suspects, one Vietnamese and two Togolese arrested. The origin of the ivory is still under investigation, but is likely to have been sourced from countries in Central Africa.
---