TRAFFIC SEMINAR: TCM experts commit to protect endangered wild medicinal plants and animals
Shanghai, China, 18th May 2010—Academic leaders from the Traditional Chinese Medicine sector have urged greater responsibility from the TCM sector in conserving valuable wild medicinal species, and rejecting the use of endangered species such as Tiger through strict adherence to national laws and international conventions.
---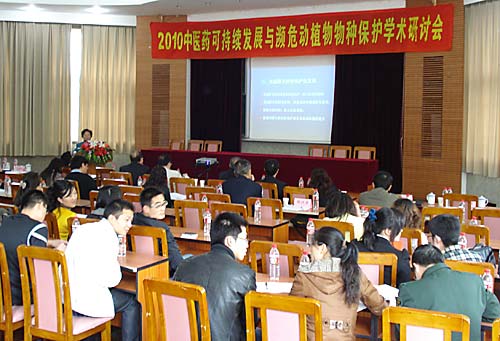 The Second Military Medical University, the Shanghai Botanic Society and TRAFFIC jointly convened a "2010 Seminar on Sustainable Development of Traditional Chinese Medicine (TCM) and Protection of Endangered Species" at the Second Military Medical University in Shanghai on 14 May.
The seminar was attended by 25 senior TCM doctors, professors and experts from TCM academies and relevant local governmental departments including the Second Military Medical University, East China Normal University, Peking University, Fudan University, World Federation of Chinese Medicine Societies, American College of Traditional Chinese Medicine, the Netherlands Society of Traditional Chinese Medicine, Shanghai Botanic Society, Shanghai Wildlife Conservation Association, and the Shanghai Wildlife Conservation Department.
Participants conducted in-depth discussions on protection of endangered medicinal plants and animals and a systematic approach to sustainable use of Chinese medicinal resources. They committed to take actions to help protect endangered species used for medicine in the wild, including rejecting the use of endangered species, especially Tigers and other Asian big cats. More than 30 undergraduate and graduate students from the Second Military Medical University also attended. 
TRAFFIC China Programme Director Professor Xu Hongfa and Programme Officer Ms Xu Ling spoke about the illegal trade in Tiger parts and the conservation efforts underway to protect Tigers and other wild endangered species used for medicine in China and elsewhere. 
"It is imperative we focus our conservation actions to protect wild Tigers during the current Chinese Year of the Tiger," said Professor Xu. "The leadership shown by the TCM community to reject the use of certain ingredients, including Tiger bone, to protect endangered wildlife species, is an important step in reaching out to TCM practitioners, industry and consumers." 
Participants unanimously agreed that protection of the medicinal plants and animals used in TCM is a precondition for conservation and development of TCM culture. The TCM community should conduct research on alternatives and advocate the use of substitutes of endangered wild medicinal resources. 
"TCM practices are adopted by a growing public audience, which has helped develop the TCM industry. However, the public also cares about the use of endangered medicinal materials, and we must ensure that we put an end to the use of big cats and other endangered medicinal materials," said Huang Lixin, the Director of the American College of Traditional Chinese Medicine.
The participants stressed that TCM practitioners must put into practice the national ban on medicinal use of Tiger bone. In 1993, China banned any production of Tiger medicines and cancelled the pharmaceutical criteria for Tiger bone in the Pharmacopoeia of the People's Republic of China.
---